28 October 2004 Edition
Outrage over SDLP attack on new GAA club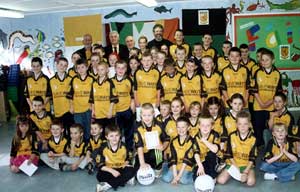 Sinn Féin Lagan Valley Councillor Paul Butler says people in Twinbrook are outraged by an attack on the new GAA Club in the area by the SDLP's Patricia Lewsley.
Lewsley was reported in the Irish News on Wednesday as saying that the club logo is "inappropriate".
"I can tell Patricia Lewsley that the only thing 'inappropriate' is her unwarranted and unwanted attack, both on the memory and legacy of Bobby Sands and on the work being done by this club in providing a vital service and outlet to the young people of Twinbrook," said Butler.
"Over the past number of months a group of people in the Twinbrook area have been working flat out to get the necessary funds together and the necessary personnel in place to launch a local GAA club. Finally, last weekend all that good work came to fruition with the launch of Cumann na Fuiseoige GAC.
"Many may have expected elected representatives like Patricia Lewsley to be grateful to these people for their endless hours of unpaid work in bringing the project to this stage. However, instead of congratulating the club or offering it support, she has instead descended to the politics of Maggie Thatcher and attacked the new club logo, as it bears the image of the lark and the 'H' in tribute to one of the best known people from the area, Bobby Sands MP. The people of Twinbrook are rightly proud of the association the area has with Bobby Sands.