28 October 2004 Edition
Belfast's Golden Age
BY JIM GIBNEY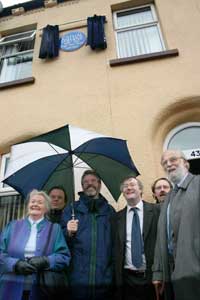 For a very brief period, Gerry Adams, Tom Hartley and I and others were in the spiritual company of Sir Roger Casement, Francis Bigger, Bulmer Hobson, Dinny McCullough, Francis McPeake and Cathal O'Byrne.
The occasion was the unveiling earlier this month of a plaque outside the house in Belfast's Cavendish Street, where Cathal O'Byrne lived for many years. The event was sponsored by the Irish News and O'Byrne's grand nephew attended it.
The atmosphere that allowed the spirits of such notable figures to move amongst us was created by the historian Eamon Phoenix, who unveiled the plaque.
Phoenix's comments brought us back to a time in Belfast when Ireland was still united under the British crown, to a time when poets, artists, musicians and republican revolutionaries of all religions and none seamlessly mingled and shared ideas with each other. They were big ideas to do with Ireland's freedom, its literary and cultural revival; a "golden age" is how Phoenix described it.
This "golden age" saw gatherings at the home of Francis Joseph Bigger, lawyer and antiquarian, on Belfast's Antrim Road overlooking Belfast Lough.
It was here, under the aegis of the Ard Righ Circle, that figures such as Casement and Hobson, members of the Irish Republican Brotherhood, met with O'Byrne and others to plan their activities.
O'Byrne relied heavily on Bigger's voluminous library. Like Bigger he was steeped in the history of the United Irishmen and the 1798 Rising.
O'Byrne was a self-educated man and a product of the Gaelic revival of the early 20th Century. He was well known as a poet, writer, folk singer and seanachaí before partition and was an advocate for Irish independence until his death in 1957 at the age of 83.
He was a lifelong friend of Joe Devlin, involved in the IRA and mixed with the poets Alice Milligan and Eithne Carberry, both admired by Bobby Sands.
Casement thought highly of him and in his last letter from Brixton Prison before he was hanged he asked him to sing the Irish ballad, 'Castle of Dromore' in his memory.
During the Belfast pogroms following partition in 1920, O'Byrne toured the US on behalf of the White Cross Fund, raising £100,000 for the beleaguered Catholics of his native city.
Some of the money he raised was used to build a street in Beechmount, now known as Amcomri Street, the acronym of the American Committee for the Relief of Ireland.
Catholics fleeing the pogroms in North Belfast were housed here and at number 6 Tom Williams, later hanged, resided for a short time.
O'Byrne is best known for his writings, which captured a way of life in Belfast long since gone. He was a regular columnist for the Irish News and in 1946 they published O'Byrne's articles in a book called As I Roved Out. It was a huge success and has gone through five printings since then. It is still on sale on bookshops across Ireland.
His style of writing was simple, direct and memorable. You can feel the prosperity and buzz in the following passage taken from the book: "Of Barrack Street's 53 places of business, 15 of them are public houses - they are thirsty souls in the vicinity of the Barracks, it would seem — amongst the others there are seven diary-keepers, six grocers, six dealers, two bakers, two pawnbrokers, and for the rest, plasterers, huxters, pig-jobbers, coopers, nailors, bricklayers and cow-keepers, make up the sum."
Dinny McCullough, IRB man and Sinn Féin's first Councillor to sit in Belfast's City Hall, spoke at O'Byrne's graveside.
Saturday's unveiling gave rise to stories of more recent vintage.
Tom Hartley recalled his father, who lived round the corner and was a friend of O'Byrne's, telling him about this dramatic figure: 'dark haired, black hatted, black caped' walking along Cavendish Street; it was O'Byrne.
Gerry Adams said that As I Roved Out was one of the first books he read.
He then told the story of the McPeake family receiving an award at a prestigious musical gathering abroad at which a Burgher said of the Burghers of Belfast that they would no doubt be proud of the McPeakes' achievements, whereupon Francis quipped: "The Burghers of Belfast don't even know we exist."
The "golden age" had long since been replaced by the narrowminded bigotry of unionism striving to remove any trace of Irish culture from their state by ignoring it or discriminating against it.
The story of the day was told by Dr James Hawthorne, a member of the Ulster Historical Circle, the body responsible for the upkeep of the plaque.
He was with the McPeakes at a concert in Moscow in the 1950s. When the gig was over, they were all invited back to the Kremlin to relax. James declined the offer and next morning when he asked Francis how things went, he said: "That boy Kruschev smoked my fags all night."
If you should stop a while at O'Byrne's plaque in Cavendish Street, walk a few yards to your right and stop again at another plaque on the gable wall of Hawthorn Street.
It's to the memory of the IRA Volunteers shot dead by the SAS in Gibraltar, Mairéad Farrell, Dan McCann and Seán Savage. Dan McCann lived in the house next door to where Cathal O'Byrne lived.