28 October 2004 Edition
Anger as EPA approves incinerators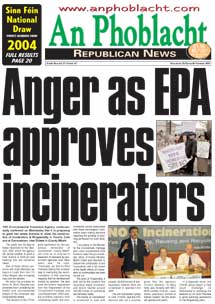 The Environmental Protection Agency controversially confirmed on Wednesday that it is proposing to grant two waste licences to allow the construction of incinerators at Ringaskiddy in County Cork and at Carranstown, near Duleek in County Meath.
The public has 28 days to lodge objections to the decision, after which the agency will decide whether to grant a final licence or hold an oral hearing into the concerns raised.
One of those whose concerns will most definitely be heard is Louth Sinn Féin TD Arthur Morgan, who is hopping mad over the decision.
He says the process by which An Bord Pleanála was prevented from considering the health and environmental impacts of the incinerator was fundamentally flawed.
"The decision of the EPA to grant permission for the poisonous incinerator at Carranstown, County Meath, will come as no surprise to observers of decisions by government agencies over many years now," he says. "Previously, we had An Bord Pleanála taking the unusual step of overturning the recommendation of their planning inspector that the development should be rejected. We also have the bizarre regulations from the Department of the Environment Heritage and Local Government, which actually prohibits planners from considering health and environmental issues associated with these carcinogenic incinerators when making decisions regarding the granting of planning permission for such facilities.
"I am calling on the Minister for the Environment, Heritage and Local Government Dick Roche to reject the pro-incinerator ethos of former Minister Martin Cullen and intervene to prevent the construction of any incinerators until a full review of the health effects of incineration on communities has been carried out."
The plant at Ringaskiddy, if built, will be the country's first hazardous waste incinerator and would handle around 100,000 tonnes of commercial and domestic waste.
The facility at Carranstown is scheduled to deal with around 150,000 tonnes of non-hazardous material. Both are scheduled to operate from 2007.
The anti-incineration group in Cork, CHASE, said the EPA decision was not a surprise given that the agency's Director General, Dr Mary Kelly, was formerly with IBEC while another Director, Laura Burke, previously worked at Indaver Ireland, the firm which will operate both plants.
In a separate move, the CHASE group began a High Court challenge on Wednesday to challenge the decision by An Bord Pleanála to grant planning permission for the Ringaskiddy plant.