14 October 2004 Edition
The ceasefire that never was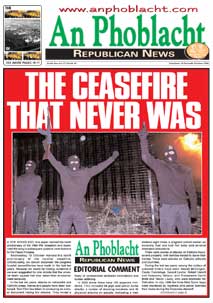 A few weeks ago, this paper marked the tenth anniversary of the 1994 IRA cessation and examined the army's subsequent positive contributions to the Peace Process.
Wednesday 13 October marked the tenth anniversary of the loyalist ceasefire. Unfortunately, we cannot document the progress loyalist paramilitaries have made in the last ten years. Because we would be fooling ourselves if we even suggested for one minute that the unionist death squads had ever taken their announcement seriously.
In the last ten years, attacks on nationalist and Catholic areas, homes and people have been sustained. Sinn Féin has taken to producing an annual document listing the attacks. They reveal a litany of orchestrated sectarian intimidation and human suffering.
In 2003 alone there were 160 separate incidents. This included 54 pipe and petrol bomb attacks; a number of shooting incidents; and 43 physical attacks on people, including a man stabbed eight times, a pregnant women beaten so severely that she lost her baby and several attempted abductions.
There were scores of attacks on Catholic houses and property, with families forced to leave their homes. There were attacks on Catholic schools and churches.
During the last ten years, among the victims of unionist killers have been Daniel McColgan, Ciarán Cummings, Gerard Lawlor, Robert Hamill and Rosemary Nelson, and Protestants Gavin Brett and Trevor Lowry, who were mistaken for Catholics. In July 1998 the three little Quinn boys were murdered by loyalists who petrol bombed their home during the Drumcree standoff.
In the run up to the fatal fire bombing of the Quinn home, over 140 families living in predominantly Protestant estates had been targeted in similar sectarian attacks.
Infighting amongst the UDA and UVF has resulted in further deaths and Protestant communities have been left in tatters as loyalist gangs fight for territorial control.
Loyalist paramilitaries are up to their necks in drug dealing and ethnic minorities have also suffered at their hands. Only this week, it emerged that the UVF boss in South Belfast has decreed that there is a 'quota' of Chinese families that would be 'acceptable' in his area.
Loyalist violence has never ceased and mainstream unionist politicians on the whole have failed to show leadership and in some cases have actively incited sectarian and racist violence.
Meanwhile, the two governments, the media, and other establishment elements attempt to keep the focus on the IRA, which is no threat to the Peace Process.
This appaling situation sees sectarian racist criminal thugs, with whom British state forces have colluded in killing hundreds of nationalists and republicans, being given free rein. It is just one example of the sickness that is at the heart of Britain's continued occupation of Ireland.