30 September 2004 Edition
British airport photograph policy anti-Irish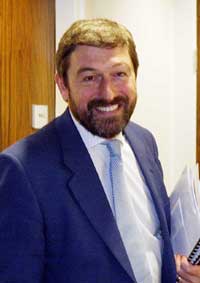 Sinn Féin's Billy Leonard has accused the British Government of operating an anti-Irish policy at British airports after he was told he would have to have his photograph taken as he waited to board a flight to Belfast at Gatwick airport.
Speaking to An Phoblacht, the Coleraine councillor said he was travelling home with his family when check-in staff told him he and his family would have to be photographed as he would be mixing in the departure lounge with passengers going on international flights.
"I heard a clicking noise from a camera above the door and I immediately told the check-in staff I was refusing to let anyone take photos of my family and offered my passport, which has my photograph. The check-in staff wouldn't accept it so I asked to see the supervisor and when I told him I was refusing to let anyone take my photograph he told me he would escort me and my family through the departure lounge and straight onto the tarmac to board the plane."
Leonard was allowed to travel the rest of his journey unhindered.
The Coleraine councillor says that taking photographs in this manner contravenes Article 8 of the Human Rights Convention and also the Data Protection Act.
"In the past number of weeks I have been through airports in Holland, Barcelona and even Belfast and never once have I been asked to have my photograph taken. This protocal seems to only be happening at British airports".
Leonard said it seems to be a policy at British airports to photograph all travellers on Irish flights.
"In August, while travelling home from the Basque Country via Bristol airport, I refused to be photographed and was told by a member of the security staff that it was a British Special Branch directive to photograph all passengers travelling over the Irish Sea. Once again we see British securocrats harassing Irish travellers."