30 September 2004 Edition
A National Stadium at Long Kesh... Really? - BY GERARD MAGEE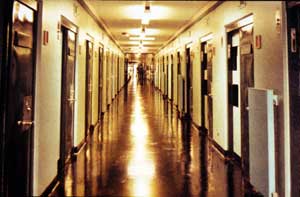 With September marking the climax of the inter-county championship season for the different Gaelic sports, attention now shifts to the administrative side of the GAA. Among the topical issues coming to the fore again will be Rule 42, relating to the sharing of GAA grounds with other sporting organisations. With soccer and rugby fixtures in Dublin being forced "away" from 2006 due to a major redevelopment project at Lansdowne Road, there will be considerable pressure mounting on the GAA to open up Croke Park.
Likewise, the debate on Rule 42 will also have a bearing on a recent British Government proposal for a 'national' stadium to be located outside Belfast. The Long Kesh site was suggested as one possible location. It was emphasised that if the proposal is to be viable, it would require the endorsement from the governing bodies of soccer, rugby and Gaelic games. A consultation period was declared and the media speculation quickly focused on how the GAA would react, with the project left hanging in the balance, subject to the GAA getting its house in order.
As a member of the GAA and a former resident in H Blocks, I was particularly intrigued by the idea of a 'national' stadium at Long Kesh. While recognising the immense size of the site and mindful of the important history associated with Long Kesh, I would be primarily concerned at the very subtle political agenda behind the move.
Before anyone goes on the defensive with cries of 'let's keep politics out of sport', one thing I learnt from our debating forum in Cell 26 on the H-Block wings is that everything in our lives, from the cradle to the grave, is connected with or subject to political influences of some sort or another. Health, education, housing, roads, environment, agriculture and every other aspect of our society is regulated through governments, which are in turn made up of various political parties promoting contrasting ideological perspectives.
Sport is no different, it can shape, represent or be influenced by political ideology. For example, the GAA from its inception in 1884 has made an enormous contribution towards the promotion of the Irish nation, our national identity, and obviously as an Irish nationalist, I think this is wonderful and long may it continue. So whether it's viewed in a positive or negative light, we are only ignoring objective reality if we pretend that any sport can exist in some sort of sanitised bubble.
In relation to this 'national' stadium proposal; right from the outset the British Government has put a reverse political spin in place. Basically, if the GAA fails to change policy regarding sharing grounds, the 'national' stadium won't go ahead. Thereby, it will be the fault of the GAA for depriving the people of a much needed sports complex. So here we go again, the GAA getting negative media attention and off we go with 'Rule 21 debate Mark II.'
Now, before we, as members of the GAA, get completely into loggerheads again, lets take a step back and ask ourselves what is this really all about? What agenda is getting played out and who is setting it?
Do you really think a British Government Minister has any real interest in promoting Gaelic games? This is the crux of the issue. We still have a hotly contested political struggle over the jurisdiction of Antrim, Down, Derry, Tyrone, Armagh and Fermanagh. Thereby, the very description of the stadium as 'national' is loaded with big political connotations.
Coming from the British political establishment, the description of 'national' has a very pro-union and pro-partition perspective, as they continue to hanker after a reformed, repackaged and more acceptable Six-County statelet. Yes certainly, those with a pro-union view are entitled to promote their agenda. That's their democratic right. However, they tend to disguise it slightly under a 'sport for all' banner, hoping that enough of the gullible Irish won't see the wood for trees and thereby giving, by default, a broader perceived tolerance of British jurisdiction in this part of Ireland.
Thankfully, from the perspective of someone totally in favour of Irish unity, the strategy of stabilising the northern six counties into some sort of semi-nation with a 'national' identity is increasingly becoming a pointless and futile exercise. The all-Ireland agenda is really gaining momentum, with growing nationalist confidence and helped, in no small way, by the success of Ulster counties in the football championship in recent years.
Notwithstanding these positive developments for nationalists, the contest over jurisdiction of the Six Counties continues unabated. Those with a pro-union and pro-partition interest recognise the huge success and popularity of Gaelic games and how this reinforces all-Ireland national identity. What they look upon as 'Northern Ireland' doesn't even exist in the GAA vocabulary, an organisation structured from club through to county and province on an all-Ireland basis.
Those with a pro-union perspective, including British Government Ministers, view the GAA as an important organisation that needs to be undermined, given bad publicity and plagued with internal divisions. Put frankly, if the GAA's influence can be watered down, popular support for a united Ireland will be reduced, and thereby the union can be maintained for a much longer period of time. That's it in a nutshell, so let's not get conned into this 'sport for all' jargon.
Another kite being flown, especially in relation to Croke Park, is the financial incentive. As members and supporters attending the inter-county championship games in 2004 know, with the cost of tickets, match programmes, food and drink in Croke Park; does anyone really believe that the GAA needs a lesson on how to make money? Besides, there are few sporting events in Ireland that would pull a crowd in excess of 35,000 to make the opening of Croke Park even viable.
Let's be honest, this debate on Rule 42 has nothing to do with money, sport or the value of Gaelic games. What all this is about is pressurising the GAA into giving some legitimacy and credibility to partition and the Six-County statelet. While rugby is an all-Ireland sport, soccer is the single remaining sport that is organised in Ireland with the capacity to pull a crowd in excess of 35,000, and quite clearly this is a very partitioned sport. It hasn't got an all-Ireland structure or identity and this is totally alien to the ethos and values of the GAA.
So who really needs to change, the GAA or the governing bodies of soccer? I think the GAA needs to be a little bit more decisive and forthright about its position. Given the level of support from Ulster GAA fans attending fixtures at our national headquarters down through the years - and we even hosted the Ulster Football Final there in July 2004 to a full house — how could the GAA possibly allow a sporting event into Croke Park that totally excludes the people from Antrim, Derry, Tyrone , Fermanagh, Armagh and Down?
In my view, the GAA must strongly uphold its all-Ireland identity and principles, something that cannot be bought off for any amount of pounds, euros or silver. We should amend Rule 42, open up Croke Park to all, subject to the sports organisations having an all-Ireland identity, structure and character. This would be a good tactical move, it would reverse the emphasis and leave the focus totally on the FAI and IFA. When soccer eventually has an all-Ireland identity, then at that point, the real national team can be made very welcome to Croke Park. Such a forthright position would clear the air for the benefit of everyone concerned, not least our own GAA members.
If the reverse is to happen, and the GAA buckles under pressure, those with the pro-partition view would just rub their hands with glee, delighted with their success, and move on to some other means of 'saving the Union' with Britain and holding back the all-Ireland agenda. The GAA members who are primarily focused on their performance on the field will be left wondering... what was that all about?
Finally, with regard to the Long Kesh site, a place where people like Kevin Lynch (a young GAA star, who led his Dungiven team to all-Ireland success in Croke Park) were imprisoned and died on hunger strike; it's imperative that we preserve part of the prison as a museum. However, I wouldn't begrudge sporting organisations in the Greater Belfast and Lagan Valley area having a modest facility located there as well. The site is certainly big enough; but a national stadium? Well, it's a long way for sports fans to travel from Cork, Kerry and Tipperary.
An Phoblacht Magazine
AN PHOBLACHT MAGAZINE:
Don't miss your chance to get the second edition of the 2019 magazine, published to coincide with Easter Week
This special edition which focuses on Irish Unity, features articles by Pearse Doherty, Dr Thomas Paul and Martina Anderson.
Pearse sets out the argument for an United Ireland Economy whilst Pat Sheehan makes the case for a universally free all-island health service.
Other articles include, 'Ceist teanga in Éirinn Aontaithe', 'Getting to a new Ireland' and 'Ireland 1918-22: The people's revolution'.