30 September 2004 Edition
National Ploughing Championships Adams seeks revitalisation of Irish agriculture: Irish farming must remain GM free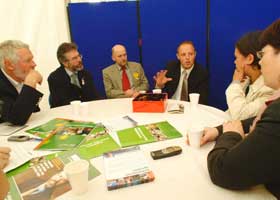 Gerry Adams, along with Martin Ferris TD, Michelle Gildernew MP and Dublin MEP Mary Lou McDonald, attended the National Ploughing Championships in Carlow on Tuesday. Speaking from the event, Adams said:
"In Carlow I met with a host of groups, including the ICSA and with farmers from across Ireland, and listened to their concerns about falling farm incomes and the removal of essential services from rural Ireland," said the Sinn Féin President.
"I stressed to all those that we met that Sinn Féin is committed to revitalising Irish agriculture and rural communities on an all-island basis. We see a future built on the basis of high quality food production and an expanded domestic processing sector, with a return to genuine producer co-operatives playing an enhanced role. We also believe that to preserve the reputation of Irish food, the entire island must remain free from Genetically Modified (GM) crops.
"We have to secure a future for Irish farming. This will entail vigorous measures at a national and EU level embracing all aspects from animal health and the marketing of food."