30 September 2004 Edition
European Department up and running
BY JOANNE CORCORAN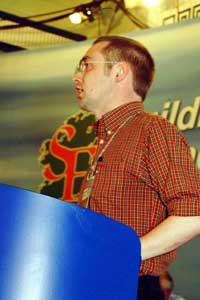 This month saw the setting up of the Sinn Féin European Department, which is tasked with helping Mary Lou McDonald and Bairbre de Brún in their work as MEPs. One of its first appointees is Eoin Ó Broin, who is originally from Dublin and has represented Sinn Féin as a councillor in Belfast City for several years.
Eoin spoke to us this week about his new role as Director of European Affairs and about how the fledgling department is doing.
"Well, I'm based in Ireland, although I'll be in Brussels and Strasbourg on a regular basis," he said. "My brief is a national one and involves co-ordinating the work of the European Department for the party. That means overseeing the work of the MEPs in their constituencies, in the rest of the country and in Europe, as well as managing the various staff, co-ordinating political programmes of work, equipping party activists and the party generally to deal with European issues, and obviously building relationships with allies and other political and social forces across Ireland and in Europe."
The new department has just three staff appointed so far (two outreach workers have also been appointed), but eventually there will be seven staff in total.
"That will include myself, two political advisors based in Brussels, two outreach workers, based in Belfast and Dublin, and of course the two MEPs," Eoin said.
"We'll also have a couple of researchers but they'll be employed by our political allies in Europe."
The department now plans to draw up a political programme of work.
"I started my job last Monday," Eoin said. "All of last week and this week we're basically doing a round of meetings with anybody who has anything to do with the EU project, like the MEPs, the staff, the International Department, the Financial Department, the Cúige chairs and so on. All of that will lead to the drafting of a document which will outline our political priorities and areas of work for the Department."
Ciarán Doherty, also from Dublin, has been appointed as Mary Lou McDonald's outreach worker. Ciarán was chair of Trinity College Sinn Féin Cumann for a year and was also chair of Ógra Sinn Féin in Dublin for a year.
"Basically, my job involves dealing with the various groups that are lobbying us on particular EU directives and non-EU issues," Ciarán told us on Tuesday. "I'll also be putting together our own programme of outreach to the community sector, the trade union sector and voluntary groups, in association obviously with Leinster House."
According to Ciarán, there is a massive range of groups already lobbying Mary Lou.
"Everyone has been on to us. I just wrote a letter back to the Irish Medical Organisation (IMO)," he said. "One thing that is coming up is the public services directive, which is coming out shortly and will have a huge impact across the EU. People are seeing drafts of this and there are particular parts of it they are worried about, so they're lobbying MEPs to try and get them to make a particular input."
There is also a lot of contact from groups who wouldn't have had contact with Sinn Féin in the past.
"That's very apparent. It looks like somebody else's name has been taken off a list and Mary Lou's put on," Ciarán said. "But at the same time there are also community groups who have always tied in with us, who now want to do meetings with Mary Lou, so we're trying to facilitate that."
The new party department hopes to have all of its staff within the next few weeks and will be holding a training day in the middle of October.