30 September 2004 Edition
Planes, trains and parliaments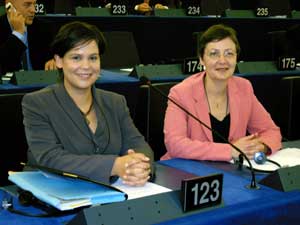 On 13 June 2004, MARY LOU McDONALD was elected as Sinn Féin's first ever MEP. Her election rocked the establishment, which had its worst nightmares confirmed when she comfortably took one of the four, much-coveted, Dublin seats.
But the work didn't end for Mary Lou in June. Since then, she and her colleague Bairbre de Brún have had to become familiar with the workings of the EU Parliament, get used to new offices and new work colleagues, and start setting out Sinn Féin's political stall for the first time ever on a EU platform.
This week, Mary Lou talks to An Phoblacht's JOANNE CORCORAN about her experiences so far and what she hopes to get from her time as an MEP.
An Phoblacht: Mary Lou, the last time we interviewed you was just before you were elected. Can you talk to us now about your first trip to the EU Parliament?
Mary Lou McDonald: I remember that interview and I remember telling you we'd take the seat!
It's been fantastic since then. Obviously it was overwhelming going into the parliament for the first time. Myself and Bairbre were representing the whole of Ireland and we were very conscious of that being a huge achievement.
The first thing that struck me was the sheer scale of the place. It is a massive maze of floors and bureaucracy.
The second thing was the warmth of the reception we got, not just from the other countries, but also from the other Irish MEPs. I think we captured the imagination of a lot of people. They wanted to talk to us and tell us that they wished the party and the Peace Process well, and would help us if they could.
Was it hard to get used to the place?
Yes it was, in every sense. If you've ever visited either Brussels or Strasbourg, you can't help but notice how imposing the EU Buildings are. It can take you a half an hour to get from one meeting room to another and you're really in trouble if you're not sure which direction you're going.
And, of course, you're faced with the task of trying to understand how the whole system works and having to make decisions about where you're going to position yourself, how you're going to pursue the issues you put up as your main ones, which for us were issues like the Peace Process, re-unification and social justice.
Then it becomes very clear that you have to avoid getting lost in the system. You have to be very focused on what you want to do. We're very aware that this is a high-level multi-national forum and there are huge opportunities for us to put our politics out there and we don't want to miss them.
Do you feel like you've settled in now?
Well, I was congratulating myself the other day on no longer getting lost around the building. That might sound like a simple thing, but believe me it helps.
I think we have settled in. We have a clearer sense of the people we are working with. We're also beginning to recognise which issues are coming down the track and are identifying what will be of particular interest to us. I'm on the Employment and Social Affairs Committee and I'm a substitute for the Civil Liberties, Justice and Home Affairs Committee and Bairbre is on the Regional Development Committee and she's a substitute for the Environment Committee, so between us we're covering an awful lot of ground. And we are also keeping an eye on a range of other areas, like agriculture, trade, development, competition, and so on.
On a personal level, how are you managing the week? Is it hard to balance work, travel and family life?
The travel is pretty time-consuming. One working week in every month I'm in Strasbourg, because the Parliament meets in plenary and that's where the votes are taken and the decisions are ultimately made. For the other weeks there is committee work and meetings with individual groups. I'm over and back to Brussels for a couple of days each week. Dublin Airport is very familiar to me at this stage. Getting on a plane is nearly the equivalent of taking a bus.
In terms of my domestic life and the work I do with my local organisation, obviously I've had to rejig things and people understand that. It's like any job though. You just have to learn how to manage, but you also have to be disciplined and make sure that you keep time for yourself and your family, particularly if you have children.
There are no prizes for running yourself into the ground.
Will it be harder for yourself and Bairbre, given that you are both so intent on remaining completely committed to your constituencies? Does that set you apart from other MEPs?
I do think that Sinn Féin representatives work to a different standard. The party has expectations for us, as do our constituents. The people of Dublin expect me to be out and about and to be an advocate for them. They didn't elect me so I could disappear for five years.
But there is a whole team of us working together, from the new European Department to the help we get from Leinster House, our councillors and our activists. We're doing a lot of work, but we have a massive support base.
On the business side of things, what have you been up to so far?
The first meeting of the Parliament was in July and both Bairbre and I got an opportunity to address it. Then it was fairly quiet in August, but in September it was back to business. It takes a while for the system to heat up, especially with all the new MEPs starting, but it's getting there.
There are a number of important things happening in the next few months, which we're keeping an eye on.
The first is that all the committees are considering different parts of the draft of the new EU Constitution. That is very much a live debate amongst the MEPs and certainly on the committee I'm involved in, there is a real division over the desirability of the constitution. Obviously we have our own, very clear position on that. I've noticed an anxiety among those who support the constitution, because they know there are going to be referenda across a number of the member states. They're clearly concerned that maybe people won't share their ambitions for the European Union.
We think it is a crucial debate for the people of Ireland and we want people to be armed with knowledge of the issues so whatever they decide, it will be informed. Hopefully, as well as bringing people into the debate, we can win them around to our way of thinking.
There's also the public services directive, which is coming up shortly and is going to have very big implications for public services across the board. Again, we're preparing ourselves to be vehicles for opening up that debate.
How much impact can two Sinn Féin MEPs have in a parliament with 732 members?
I think you have as much impact as you're determined to have. There's absolutely no doubt about it, we could go into that parliament and get lost for five years. Or we can go in and make a really strong effort to build links with people, and tell them about the Peace Process and where we'd like to see the EU going. That's involves effort and we're willing to put it in.
But we also have an input into our committees and to the debates in the parliament.
We won't always get the outcome that we want. We have a particular view on Europe, which is shared by a proportion of MEPs, but there are larger proportion of MEPs who are very happy about the direction the EU is taking. So you have to be realistic about that.
But equally there's no point in being pessimistic and fatalistic. It's our duty to be energetic and also imaginative in how we approach issues.
What, if anything, do you think the EU can bring to the Peace Process?
I think anyone observing the Peace Process would agree that the international dimension has been crucial, particularly in relation to the role the United States has played. But the EU has also played a role. Traditionally, it's been around peace funding, which has been extremely valuable. However, we think it can contribute a lot more.
You have to look at the EU this way — everyone who is there is there because they have a mandate. They represent a lot of people and they are tied into the political establishment in their own countries, so they are major players. And the more contacts and friends we have, the more people who are sympathetic and supportive and who are willing to be proactive for the cause of Ireland, the better — not just for republicans, but for Ireland. People want to see the conflict in Ireland resolved and we have to utilise that.
In addition to all that, the Peace Process isn't just something that happens inside Ireland and stays there. It's analysed internationally, because obviously there are conflicts in other parts of the world and people are looking for ways to resolve them. So it's important that we share our views about what's happening, so people don't just hear one side.
So as MEPs, you can bring a balance to what's being said internationally?
Absolutely. It's very important that we have our voice on every conceivable platform, because if Sinn Féin is not there articulating the republican analysis, nobody else is going to do it for us. And as well as finding friends in the most surprising of places, you are bringing a balance to the British line on the Process.
What is your relationship like with the other Irish MEPs? Have you had run-ins with the DUP or the UUP?
Well Jim Nicholson (UUP) is one of the Questors of the Parliament, which means he looks after the needs of the other parliamentatians and so on. All of the Irish MEPs supported him for that role because obviously we wanted somebody Irish in the loop. Jim Allister (DUP) is Jim Allister. He has been negative and I'm not sure that's going to get him very far. In Europe there is a certain level of courtesy that's expected, however big the political differences. It's not just about respecting the individual, but respecting their electorate. I think there's a lesson in that for the DUP. We have a huge amount to learn ourselves, but we're open to it. We want to be constructive and work with people and that includes Jim Allister.
The relationship with the other Irish MEPs is friendly. They know we're there to do the business and they respect that.
Would you say you have it easier than our TDs in Leinster House?
I think it's different because you're away from home. There's a natural affinity, because we're all Irish at the end of the day, and it's the same with MEPs from other countries. We differ on many issues, but there are some issues we have to be politically mature about and work together on.
Has the media interest in the two of you waned at all?
It doesn't have the intensity it did during the election or when we first arrived over, but there's still a steady stream of people who want to talk to us. Sinn Féin is still very much a story and I think we're being watched with interest. And, of course, they are still asking us the same stupid questions they did during the election.
Like their interest in you being a shopaholic?
I wish! Imagine being described as a shopaholic. There were some hilarious things written in the course of the campaign, but that really knocked my socks off. I wouldn't have the means. I think they had this idea that we'd somehow moved from our traditional base and they were creating a persona for me that was just off the wall. They just couldn't get their heads around the fact that people supported us from across the spectrum. But that wasn't news to us.
I think though, they'll be writing a lot about us for some time to come.