30 September 2004 Edition
O'Reilly reinstated, O'Leary's perks and British energy dogfight
BY ROBBIE SMYTH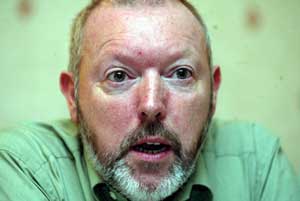 A new inquiry into the controversial sacking of the ATGWU Irish General Secretary Mick O'Reilly and another senior union officer, Eugen McGlone, in 2001, has led to the reinstatement of O'Reilly as ATWGU leader and McGlone as regional organiser.
The pair were sacked by former British ATGWU General Secretary Bill Morris on charges of bringing the union into disrepute. These were dismissed on appeal and the two officials returned to work on full pay but not in their former jobs.
Now, after a new independent inquiry by John Hendy, a senior British lawyer, the two are to be returned to their original union posts.
O'Leary's perks
Ryanair might not want to carry your luggage anymore but they are willing to carry the cost of chief executive Michael O'Leary's huge salary.
O'Leary's contract was open to public view at last week's Ryanair AGM. He gets the expected sick pay, health insurance, entry into company's pension scheme, but also enjoys a range of expenses, including the company paying for his infamous taxi.
O'Leary's salary includes a 'minimum' wage of €378,380, but this rose with bonuses and other payments to €681,000 in the year to March 2004.
He also has a mere 45 million shares in the company, worth €185 million, to tide him over if he's ever short of a few euro.
British energy dogfight
Two years ago, nobody wanted the ailing nuclear generator British Energy. An open market for electricity had seen the company, which supplies 20% of Britain's electricity, run up huge debts. It seemed to be inching towards bankruptcy, despite a £600 million bailout by the British Government.
Now, with rising oil and gas prices and unstable supply of crude oil, the nuclear powered company is suddenly worth fighting for and its investors are trying to stop the current restructuring plan.
It seems that war in Iraq, violence in Nigeria and hurricanes in the Gulf of Mexico have warmed up the financial community's interest in British Energy. However, there is still no interest in the safety of these plants or how to pay for their coming decommissioning.