30 September 2004 Edition
British soldier could be charged with 1971 killing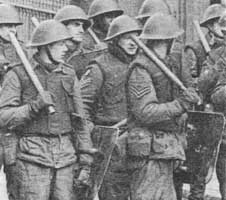 A British soldier may be charged with the killing of Derry mother of six, Kathleen Thompson, who was shot dead in the back garden of her Rathlin Drive home during a British Army raid in the Creggan Estate in 1971.
The possibility of a murder charge being brought against the member of the Royal Green Jackets, known as Soldier D, emerged after a hearing at Belfast High Court on Wednesday 23 September. Lawyers acting on behalf of the Thompson family applied for a judicial reveiw of the failure of the Director of Public Prosecutions (DPP) to provide full and sufficient reasons for the decision not to prosecute Soldier D, who has admitted firing 18 shots during the midnight raid.
The court action is the second relating to the killing of Kathleen Thompson. Last year, Judge Brian Kerr said that the authorities had failed to hold a proper investigation into her death after it emerged that Soldier D and three other members of his patrol had been interviewed by the British Royal Military Police and not the then RUC.
Kerr declared that in his view it was not open to the RUC to delegate that critical responsibility to another agency such as the Military Police. "By any standards the investigation was not effective."
Barrister Seamus Treacy, acting on behalf of Kathleen Thompson's daughter, Mary Louise, told the High Court on Wednesday that the circumstantial evidence surrounding the shooting overwhemingly pointed to Soldier D as being responsible. 'D' told the Military Police at the time that he shot twice into the rear of the garden where Thompson was killed and never suggested that someone other than he was responsible for shooting her.
"It is absurd, in the light of the totality of the evidence, for anyone to conclude there was insufficient evidence to afford a reasonable prospect of identifying Soldier D as the shooter. Such a suggestion is unsustainable and offensive to the intelligence of the family of the deceased," said Treacy.
Treacy added that the passage of time cannot rescue the decision.
"The decision not to prosecute on this ground was wrong in 1972 and it remains so."
Judge Girvan reserved judgement but Kathleen Thompson's daughter Patricia said she had no wish to see the soldier responsible for her mother's death prosecuted, as the main reason for the legal challenge was to have the DPP admit it was wrong.
"When Hugh Orde listed the unsolved murders of the conflict my mother's name was not even on it," she said, adding that she had no desire to see Soldier D taken away from his family but felt he should be named to help bring closure to her family after almost 34 years.
She added that her mother had been treated as a non person and by seeking the judicial review her family was humanising her mother. "He admitted firing the shots and nothing was done, it was as if my mother didn't matter."