30 September 2004 Edition
PDs tighten their grip - Bertie shuffles the deck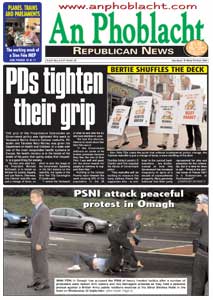 The grip of the Progressive Democrats on Government policy was tightened this week in Taoiseach Bertie Ahern's Cabinet reshuffle. PD leader and Tánaiste Mary Harney was given the Department of Health and Children. In a state with one of the most inequitable health systems in Europe, the health ministry is in the hands of the leader of the party that openly states that inequality is a good thing for society.
The man who said that, PD President Michael McDowell, is to remain as Minister for Justice, Equality and Law Reform. Otherwise, this Cabinet reshuffle was just a change of faces, an effort to alter the image of the Government. Speaking in the Dáil debate on the reshuffle, the leader of the Sinn Féin TDs Caoimhghín Ó Caoláin said:
"I remind the Taoiseach of what he said after the EU and local elections in June:
'We lost this election, there is no doubt about that. Sinn Féin won it.'
"If the Government delivers on some of its broken promises because they fear the rise of Sinn Féin, I say well and good. All the more reason for people to continue to support Sinn Féin."
Pointing to the Combat Poverty report released this week showing 20% of the population in the 26 Counties living in poverty, Ó Caolain said this exposed the failure of Government policy:
"This reshuffle will do nothing to reassure the many ordinary Fianna Fáil supporters who - in contrast to the cynical backbenchers - are disillusioned at how this Government has increased inequality in spite of a decade of unprecedented prosperity. Many genuinely believed that their party represented fair play and protection for the vulnerable. But it is time for them to ask - 'Where is the spiritual home of Fianna Fáil? Is it Bodenstown or Punchestown?'"
Ó Caoláin reminded the new Minister for Health and Children, Mary Harney, of what her party's 2002 General Election manifesto said: "Our policy on medical card eligibility is based on medical need and income. We will ensure income eligibility criteria at least keep pace with movements in incomes."
As the Minister comes into office, that PD promise is already broken. There are nearly 100,000 fewer people qualified for medical cards than in 1997. The income guidelines have been allowed to drag behind inflation and families - especially children - are suffering as a result.
Sinn Féin Justice and Human Rights spokesperson, Aengus Ó Snodaigh, welcomed the retention of Michael McDowell:
"On a purely politically selfish level I wish to thank the Taoiseach as his decision does Sinn Féin a great favour. And indeed I should take this opportunity to extend my thanks to Deputy McDowell himself. He was the single most helpful member of Cabinet in securing Sinn Féin's latest electoral success. As the personification of the regressive, right wing political and social agenda, in his unparalleled egotism, his class arrogance, and his ridiculous penchant for adopting failed policies from other jurisdictions, he is great fun to campaign against, and the response on the doors has been mighty. I look forward to his ongoing assistance in the run-up to the next general election."
On a more serious note, Ó Snodaigh concluded:
"The reappointment of Deputy McDowell says that this Government has no commitment whatsoever to building a rights-based society, but actually reaffirms McDowell in his view that social and economic inequality should persist."