23 September 2004 Edition
SF victory for 16 Moore Street
BY JOANNE CORCORAN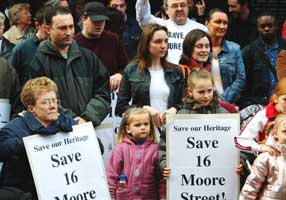 Sinn Féin Councillors in Dublin City are celebrating a victory for the second week running, after a motion they proposed to convert No 16 Moore Street into a museum was passed unanimously by the Council. The house was the setting for the final stand of Pádraig Pearse and comrades during the 1916 Rising.
Last week, the party's Dublin Southeast Councillor, Daithí Doolan, led the Sinn Féin council group in the passing of a motion that prevents an incinerator being built in Dublin's Poolbeg Peninsula and throws into the doubt the whole Government incineration strategy.
On Monday, despite a display of ignorance from some Fianna Fáil members, Sinn Féin managed to secure cross-party support for their Moore Street motion. The party's group leader on Dublin City Council, Christy Burke, told An Phoblacht he was delighted with the result.
"16 Moore St. was the last headquarters of the Provisional Government of 1916 and is a place of immense historical and political importance to the people of Ireland," Burke said. "In May of 2003, Dubliners rallied to its defence following a proposal to demolish it, which was defeated at City Council. But we believe that merely preserving it is not enough. An essential part of any heritage plan for Dublin must include the development of the site into a museum that would have a commemorative and educational function. I want to thank other councillors for supporting our motions, and for seeing the importance of the 1916 Rebellion to all Irish people regardless of political affiliation."
Burke said the triumph of the motion should not be underestimated, given the attitude of the government to the 1916 Rising and its failure to commemorate it properly throughout the city and in schools and museums.
In a tangible display of Fianna Fáil's failure to grasp the significance of the house, one of their councillors, Deirdre Heaney, drew massive criticism on Monday when she asked what she had voted to preserve.
"I said to her, that as a member of a party calling itself republican, I would have thought she'd have had some education lessons on what happened during 1916," Burke told An Phoblacht.
The Sinn Féin councillors' victory is not, however, the end of their campaign.
"The building forms part of the Carlton Development Site, currently the subject of High Court action over a compulsory purchase order and more work will be necessary to bring this matter to a satisfactory conclusion," Burke said. "But we intend to continue to monitor developments as they unfold."