23 September 2004 Edition
PSNI coerce teenager to inform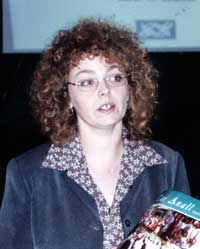 Sinn Féin North Belfast Councillor Carál Ní Chuilín has disclosed to An Phoblacht that the PSNI are attempting to coerce a 16-year-old boy into becoming an informer.
According to the Sinn Féin politician, the PSNI told the youth they would drop charges he is facing if he gave them information about a relative who was arrested in connection with the killing of a so-called dissident republican.
The teenager from North Belfast was involved in an incident last year in which a bus window was broken, but recently he says he has been harassed by the PSNI.
Ní Chuilín said the boy was arrested and beaten by members of the PSNI on Saturday night 11 September and taken to Antrim Road PSNI Barracks, where he was told that all charges against him would be dropped in return for information.
Speaking to An Phoblacht, Ní Chuilín said that the boy's mother died two years ago and it is scandalous for the PSNI to put pressure on the boy to inform.
"The young boy will be meeting with his solicitor and is intending to take out an anti-harassment order against the PSNI in order to prevent further harassment."