23 September 2004 Edition
Plight of Palestinian children in photos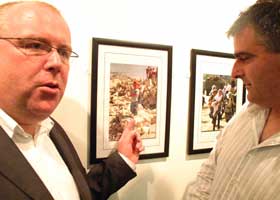 Sinn Féin Councillor Ray Corcoran and Seán Ó Donaíle, headmaster of Gealscoil Bharra in the North Dublin suburb of Cabra are pictured at an exhibition of photographs of Palestinian children at the Axis Arts Centre in Ballymun, Dublin on Thursday 16 September. The event was a fundraisr for Ó Donaíle's Páistí Pailistíneacha appeal, which aims to aid Palestinian teachers and schoolchildren and bring greater awareness here of the suffering endured by the Palestinian people.
The Páistí Pailistíneach —Children of Palestine exhibition features the work of Dublin-based Basque photographer Inaki Irigoien and a number of Palestinian photographers. The photographs are on sale for those ones who want to support this project, which has already donated over €7,000 to West Bank education, health and youth projects. For more information call 087 9069371.
The exhibition will be on display later on the month in the New Theatre Temple Bar and will be at St Finbarr's in Cabra. After this the exhibition will travel to Clonakilty, Donegal and other locations.