23 September 2004 Edition
Remembering Sabra and Chatila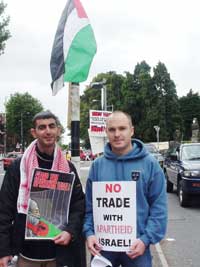 Sinn Féin's Daithi Ó Cinnéide, a party candidate for next year's local council elections in North Belfast, and Palestinian activist Mohammed Samaana, attended a vigil on the Falls Road on Saturday 18 September to commemorate the thousands of Palestinian men, women and chidren slaughtered by Israel and its right-wing allies in Lebanon in 1982.
Feilim Ó hAdhmaill of the Ireland Palestine Solidarity Campaign (IPSC), speaking to An Phoblacht, explained that in 1982, the world turned its back on the plight of the Palestinian people and did nothing as the Zionist army, led by Ariel Sharon, invaded Lebanon "in order to secure the northern borders of Israel".
Ó hAdhmaill said that over 18,000 Palestinian and Lebanese civilians were slaughtered in the invasion and during a two-month period when the Zionists besieged Beirut, bombarding it constantly.
"On 15 September, the Zionist army occupied West Beirut, which had been evacuated by Palestinian fighters as the result of a ceasefire brokered by the United States, and encircled two refugee camps Sabra and Chatila. Thousands of Palestinians, mostly women, children and elderly people, lived in the camps.
"Then on 16 September, after a meeting with Ariel Sharon, a unit of 150 pro-Zionist militia entered the camps and over the next 40 hours — under the observation of Zionist forces — they butchered, raped and mutilated an estimated 2,750 Palestinians."
Ó Cinnéide called on people to support the boycott of Israeli goods the IPSC is currently advocating. "The boycott will help build an international culture of indignation, as in the case of apartheid South Africa, against the Zionist state and its treatment of the Palestinian people," he said.