23 September 2004 Edition
DUP won't halt progress - Responsibility on governments as talks continue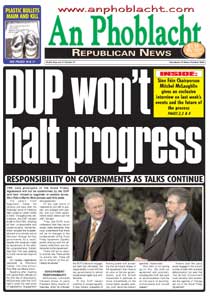 The core principles of the Good Friday Agreement will not be undermined by the DUP and their refusal to negotiate in realistic terms, Sinn Féin's Martin McGuinness said this week.
The party's Chief Negotiator made his remarks just days after the three-day round of intensive talks closed at Leeds Castle in Kent. Throughout the discussions, the DUP refused to talk to Sinn Féin, directing all their unreasonable and undeliverable demands, which included the re-establishment of a unionist veto at Stormont, through the two governments. As a result, despite the progress made by republicans at the talks, the comprehensive, holistic deal Sinn Féin was seeking to build remained beyond reach.
On Tuesday, negotiations resumed at Stormont Castle, this time without Tony Blair and Bertie Ahern.
Speaking after meeting with government officials on the first day of discussions, McGuinness said the DUP had to enter the real world of negotiations, engagement and agreement.
"In the real world of negotiations you talk to people, you engage with people, and you make agreements which others can live with," he said.
"They (the DUP) must understand that they cannot simply make demands; they must understand that there will be no changes to the fundamentals of the Good Friday Agreement. Equality, power-sharing and the all-Ireland institutions are fundamental to the Agreement.
"There will be no return to unionist rule. There will be no unionist veto. There will be no dilution of the all-Ireland structures."
Government responsibility
McGuinness' comments followed those of party President Gerry Adams on Saturday, when he criticised the DUP's failure to engage, but said that ultimately, the responsibility is now with the two governments to deliver fundamental rights and entitlements.
"If the DUP remain unwilling to accept equality, if they remain incapable of sharing power and accepting the all-Ireland shape of the Agreement, then there is an onus on the two governments, and the British Government in particular, to move immediately on the human rights, equality, policing and demilitarisation agendas," Adams said.
"Sinn Féin is not giving up on this. We want an agreement with unionism, including the DUP. But such an accommodation must be on the basis of equality, inclusiveness and mutual respect."
Adams said the party would engage in the current rounds of talks with renewed determination, but said that "the British Government must advance and accelerate the agenda of change set out in the Good Friday Agreement".