9 September 2004 Edition
Unionist claims of intimidation disputed: Driver saves life of stabbed youth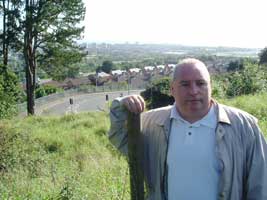 On a hill just above the main turning into the nationalist enclave of Whitewell in North Belfast there's a security barrier leading into Belfast Zoo. Loyalists from the nearby White City have been seen sitting in cars at the barrier. From that vantage point it is easy to identify Catholics turning to walk the short distance from Floral Road into Whitewell.
Here the road is isolated, lined only by trees and obscured from homes in the Whitewell Estate by a sharp bend. This turning already has a history. It's the spot where Gerard Lawlor was shot dead by unionist paramilitaries in July 2002. Last Sunday when a passing driver saw a gang attacking a stricken teenager he immediately knew what was happening.
In an act of considerable courage, the driver stopped and challenged the gang. It was an act that certainly saved Joe McKernon's life. The gang fled, piling into a getaway car, later found abandoned and burnt out a short distance away at Loughside Recreation centre on the Shore Road. A few moments later a second driver stopped to assist the injured teenager whose only hope had been to alert passing traffic to his plight.
The two drivers tried to keep the seriously injured 18-year-old calm. It was immediately obvious to them how seriously the teenager had been injured. There were several abdominal stab wounds and a wound to the chest. One driver described seeing the victim's inner organs lying outside the wound. "They meant to kill," said a driver, "the fact that they were interrupted saved a life."
Joe was rushed to the Mater Hospital where he received emergency surgery first on one lung and later his bowels. His condition has been described as serious but stable. Local Priest Fr Whyte said the community was trying to get to grips with what had happened. "I cannot understand how anyone could do this," he said.
The attack followed heightening sectarian tension within the area that local people are linking to the current political talks. "Unionist paramilitaries always crank things up when there's political talks," said a Whitewell resident.
The atmosphere has not been enhanced by an increasing number of unionist parades. Most recently, the unionist paramilitary Whitewell Defenders Flute band organised a parade last Saturday. In an act of pure provocation, the self-styled Defenders invited 28 loyalist bands and 1,000 marchers to take part in a four-hour parade through the Whitewell area.
The parade commemorated the death of local teenager Thomas McDonald who was killed three years ago in controversial circumstances. McDonald was riding his bike when a car driven by a resident from the nationalist estate struck him. A local woman was charged and convicted in relation to the accident.
McDonald was knocked off his bike after the driver pursued him along a footpath after he had thrown a brick at her windscreen. The Catholic mother was jailed for two years for manslaughter.
At the time of his death McDonald had been a member of the Whitewell Defenders Flute band and a well-known member of a White City gang that regularly stoned cars travelling towards the nationalist Whitewell and Longlands areas.
Unionist commentators and media are linking the brutal sectarian attack by unionists against the Catholic teenager on Sunday to an earlier incident in which two unionist paramilitary bandsmen were stabbed. The bandsmen had taken part in an Orange commemoration in Sandy Row on Friday 27 August of the weekend before.
According to local people trouble flared in the early hours of Saturday morning 28 August between a number of nationalist teenagers and a larger group of unionist paramilitary bandsmen. A knife wielded by one of the bandsmen was taken off him by his intended victim who lashed out as a five-man gang kicked him to the ground. Two bandsmen were injured.
A few hours later unionists from White City attacked a Catholic funeral. The cortege was attacked by a mob wielding machetes in what the media described as a 'revenge' attack. The fact that an incident of the previous night involving a number of youths and drunken unionist bandsmen, following which there were a number of arrests, led to an attack on a Catholic funeral is indicative of a sectarian ethos in which "any taig will do".
A week later Catholic teenager Joe McKernon became another target in the UDA thirst for 'retaliation'. Whitewell community worker Paul McKernon has criticised the willingness of the media to repeat spurious attempts to justify the sectarian murder attempt by the UDA that almost resulted in his young relative's death.
"I was disappointed that when interviewed by the media John Montgomery failed to condemn the attack, he merely suggested it was inevitable," said McKernon. (Montgomery is a member of the UDA linked Ulster Political Research Group (UPRG)).
Paul McKernon said that despite the provocative nature of the unionist parade, nationalist community workers in Whitewell had taken measures to help ensure that the day passed off peacefully including taking many children and young people for a fun day away. "This community has endured three weekends of unionist parades," said McKernon.
Unionist claims of sectarian attacks against Protestant residents of White City have been rubbished by local people. Speaking to the Newsletter, Unionist Councillor Tommy Kirkham of the UPRG claimed that there had been "ongoing attacks" against Protestant residents in the area for several months.
"The intimidation and attacks are a deliberate attempt to drive Protestants from this area," Kirkham said.
But local Sinn Féin Councillor Danny Lavery insists that many unionist claims, often repeated in the media are spurious. A claim that a local Orange hall was "besieged" by nationalists in an "attack" which left women and children in the hall crying and distressed has been vigorously refuted.
"A small crowd of nationalists had gathered at some distance after unionists attending the parade attacked five residents in Catherine's Court but the Orange hall was not besieged, people in the hall had free access to the Whitewell Road and moved freely in and out of the hall. At 8.30pm those attending the hall walked down the Whitewell Road to waiting buses without incident," said Danny Lavery.