9 September 2004 Edition
Andersonstown PSNI Base must close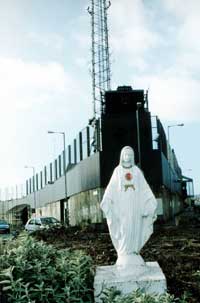 West Belfast Sinn Féin Assembly member Michael Ferguson has expressed his outrage after the local District Policing Partnership began attempts to keep the Andersonstown PSNI military base open.
"If ever there was an example of how unrepresentative the current policing structures are then surely this is it", said Fergusom. "A body claiming to know what is best for the West Belfast community is of course chaired by a member of the Women's Coalition based in South Belfast. It is unlikely if many of the people taking this decision have actually ever set foot in Andersonstown.
"These latest moves are of course deeply embarrassing for Alex Attwood of the SDLP who has on at least two occasions previously announced the closure of this base. Sinn Féin have campaigned for the removal of this blight from our community for decades. We will continue to do this.
" Sinn Féin will not accept the mandarins on the Policing Board or the DPP attempting to continue to impose military occupation on the West Belfast community. We will continue to demand that the British Government honour it commitments on demilitarisation in West Belfast and elsewhere in the upcoming discussions."