1 July 2004 Edition
Jeffrey Donaldson and The Wailers at Féile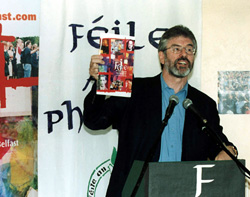 Where else would you find Jeffrey Donaldson, reggae giants The Wailers, Arthur Scargill, Christy Moore, Roddy Doyle, Big Brovaz, George Galloway and of course, Tom Hartley, other than in West Belfast in the first week of August.
For festival enthusiasts across the globe, the countdown officially began this week for this year's Féile an Phobail.
A packed programme of events for the festival, which runs from Friday 30 July until Sunday 8 August, was launched at the Bowling Club in the Falls Park on Tuesday, with Sinn Féin President Gerry Adams and local film-maker Pearse Elliot the main speakers.
The Open Arts Choir provided the musical entertainment for the launch and if the quality of their singing is any indication of the standard of acts, this year's festival will be exceptional.
As usual, Féile promises to deliver on all fronts. For music buffs there are many fine acts, including an appearance from the legendary Christy Moore.
Mícheál Ó Súilleabháin, whose music straddles traditional, classical and contemporary music, is collaborating with Mel Mercier and the Irish Chamber Orchestra in Clonard Monastery on Sunday 1 August.
Chart topping Big Brovaz and The Selector are amongst those acts catering for the rock and pop audiences.
On the political front, Jeffrey Donaldson, Mary Lou McDonald, Eamon Dunphy and Glasgow MP George Galloway will lock horns for this year's West Belfast Talks Back in St Louise's College on the Falls Road.
Geraldine Finucane, who was shot and wounded at the time of her husband Pat's assassination 15 years ago, will deliver the PJ McGrory Memorial lecture on Saturday 7 August at St Mary's University College. She will speak about her family's long struggle to find the truth about his assassination.
Bernadette McAliskey, along with Jamal Iweida, President of the Belfast Islamic Centre, will take part in a panel discussion on Anti-Irish Racism and the Experience of Belfast's Ethnic Minorities Today at St Mary's College.
And children can look forward to many fun days, including sports events scheduled across Belfast during festival week.
But this is just a snapshot of what is going on during one of the busiest and fullest festivals in the world. The full programme of events and other information about Féile an Phobail can be found on the website at www.feilebelfast.com.
The ticket and credit card hotline number is 028 9028 4028.