1 July 2004 Edition
Tír gan Teanga?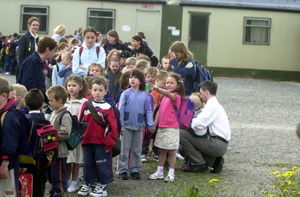 Leaving Certificate students are finishing their exams and for the vast majority, these final secondary school tests will also mark an end to their study of the Irish language.
From the very first day that all of these students were walked into school, as four- or five-year-olds, holding onto their mothers' hands, they have experienced daily contact with the Irish language. But unfortunately, after 13 years as a captive audience, learning the language through the state system, the majority of our young people, through absolutely no fault of their own, still find themselves totally unable to hold even the most basic conversation as gaeilge on leaving school. Worse still, many are completely pleased to be rid of the compulsion to learn Irish and will actually leave school with a resentment of their native tongue, instead of an affection for it.
Years later, a great many will feel regret that they don't have the ability to use their native language. Some will actually feel personally guilty about this, will blame themselves and feel that they should have made more of an effort while at school. Then, when their own children in turn begin primary school, they will regret that they are not better able to help them with their Irish homework, and so the cycle continues.
None of this is a new phenomenon by any means. It has been the reality of the state system since its inception. What is truly worrying is that the Department of Education either fails to recognise this reality or else is completely aware of it and yet still has absolutely no intention in the wide world of reforming the way that Irish is taught in our schools. Is the Irish language really so difficult to learn, that even after 13 years of tuition, the Department cannot devise a curriculum that allows our children to leave school equipped with the ability to converse in the language?
Linguaphone advertisements claim to be able to teach any language in six weeks. Surely, 13 years at school is long enough to teach conversational Irish properly?
Every year, we hear calls for Irish to be dropped as a compulsory subject. The fact that the present system of teaching Irish has failed so badly provides the argument for those calls, and that is a matter of huge concern.
Everybody recognises that the present system just does not work. Everybody knows that 13 years of emphasising proper grammar, tenses and verbs, results in a population that can generally read a page full of Irish and pronounce almost every word correctly, but still not have the faintest idea what it means. Is this good enough? Of course it isn't, but where is the pressure on the Department of Education to reform this failed system?
In September, a whole new generation of young children will begin primary school, their young brains primed to soak up knowledge. They will enter the same failed regime, where the emphasis is on reading the language, rather than on speaking it, understanding it and enjoying it.
It really is no wonder that the government have failed so badly to champion Irish as a working language in the EU, when they already fail so badly to champion the language at home. The Department's eternal attitude seems to be: if plan A doesn't work, then let's try plan A.
Listening to Aengus Ó Snodaigh losing the rag with the Minister for the Environment in Leinster House last week, during the debate on the National Monuments Act, and laying into him completely as gaeilge, was great entertainment (let's have more of it!). But the sad reality was that the Minister just hadn't a clue what Aengus was saying to him. The Leas Ceann Comhairle hadn't a notion of what was going on either, or he would likely have expelled Aenghus from the Chamber.
It really is way past time that the Department of Education woke up and applied a little imagination to this reality. The present situation is not going to improve by itself. How much evidence do they need? It is way beyond time that a new Irish curriculum, one that succeeds in teaching the language, was devised for our schools. We have had generations of tokenism and lip service to our language. Let's just have a plan to teach our children properly. Thirteen years is surely enough, in anyone's language.