1 July 2004 Edition
Cowards crumble before bigots
BY LAURA FRIEL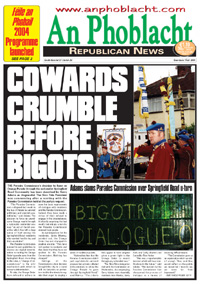 Adams slams Parades Commission over Springfield Road u-turn
The Parades Commission's decision to force an Orange Parade through the nationalist Springfield Road Community has been described by Gerry Adams as disgraceful. The Sinn Féin President was commenting after a meeting with the Parades Commission held at the party's request.
"The Parades Commission collapsed last week in the face of threats by unionist politicians and unionist paramilitaries," said Adams. The decision to force an unwelcome Orange march through a nationalist residential area was "an act of moral cowardice which has left a deep sense of hurt among the Springfield Road residents who worked hard to try and find a resolution".
The Parades Commission ignored its own guidelines to reverse an original determination re-routing the Orange Order's parade away from the Springfield Road. According to the rules, a "change of circumstances" is the only mechanism with which to review a determination.
To date, the Orange Order have refused to adhere to even the basic requirements of dialogue with residents and the Parades Commission. Indeed, they have made a virtue of their refusal to engage. In the circumstances, it is hardly surprising that last week's last minute u-turn by the Parades Commission stunned local people.
As spokesperson for the residents, Seán Murray, pointed out, the Orange Order has not changed its position one iota. "They have not spoken to residents and they insist that they have not spoken to the Parades Commission. Nothing has changed."
Outrage at the Commission's u-turn decision brought the city to a stand still on Saturday as protestors took to the streets to register their anger by staging a series of roadblock pickets.
"Nationalists fear that the Parades Commission didn't just capitulate to unionist pressure but actively colluded with unionists to allow the Orange Parade to pass through Springfield Road," said Murray. "The criteria they appear to have adopted gives a green light to the Orange Order to march through any nationalist area."
The Sinn Féin delegation met with the Commission on Wednesday. Accompanying Gerry Adams were Assembly members Alex Maskey, Gerry Kelly and Cathy Stanton and Councillor Tom Harley.
"This was a reprehensible decision which will have ramifications in the future," said Adams. "The decision by the Parades Commission has cheapened the process of dialogue as a means of resolving difficult issues.
"The Commission gave us an explanation which we didn't accept. They said they would reflect on the points we raised but I have to say we were far from impressed."