3 June 2004 Edition
Free Derry Wall restored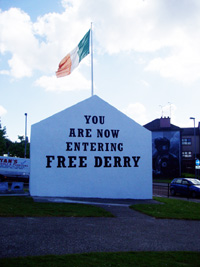 Free Derry Corner, one of the country's leading landmarks, has been restored by a group of republicans. The Wall, which has been the gathering point of many protests and confrontations over the decades, had deteriorated over the years due to exposure to the elements and the heavy volume of traffic that passes by.
The wall was chipped down to the original brickwork, replastered and repainted and a new flagpole erected on top. A new framework was also built at the rear to prevent boards being hammered into it, which was damaging the plasterwork.
The work took over a fortnight to complete and Derry Sinn Féin would like to thank all of those people who gave up their time, free of charge, to restore Free Derry Wall.