3 June 2004 Edition
This week's sectarian attacks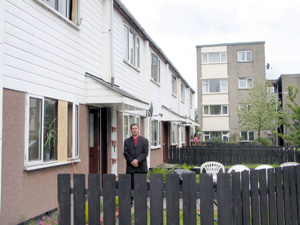 Loyalists target CRJ offices
An explosive device left outside the West Belfast offices of the Community Restorative Justice programme (CRJ) had the capability of igniting and causing serious injuries.
The bomb, left by loyalists, was discovered at the Slemish Way premises in the early hours of Monday 31 May. A telephoned bomb warning a was made from a telephone box in Mallusk, Glengormley.
The crude device, constructed around a gas cylinder, was left outside the door of the building at Slemish Way, opposite Casement Park.
Homes in the vicinity were evacuated before a British army disposal team carried out a controlled explosion.
The Community Restorative Justice programme is a mediation service that works to resolve conflicts by bringing the victims of crime face to face with offenders.
Director of CRJ Jim Auld said he was at total loss as to why someone would target its offices. He said staff would be meeting to discuss the attack. "We will be reviewing our security," said Auld. "It is a worrying and sinister development and we don't know why anyone would pick us out. We are just glad no one was injured".
West Belfast Sinn Féin Assembly member Michael Ferguson said the attack defied logic. "Local people are very angry at this incident. CRJ provides a crucial mediation process within this community and this sectarian attack is being viewed as an attack on the wider community in this part of West Belfast."
Pensioner's home attacked for 40th time
Loyalists attacked the home of Dunmurry pensioner Trevor George on Monday night 24 May, breaking three windows in his greenhouse.
The tormented pensioner's home has been attacked by loyalists in the region of 40 occasions over the past three years, most of them launched from a footbridge built by Lisburn City Council.
The council erected the footbridge after George blocked access to the Lagan towpath after numerous sectarian attacks on his home, which included his dogs being poisoned. The council built the footbridge to allow people access to the towpath and now the pensioner says he will be holding Lisburn City Council responsible for the attacks.
"The PSNI do nothing, Lisburn Council do nothing. I am now going to ask the Law Society to ask them to support my case for having this walkway closed by Lisburn Council."
George said he will not be moving and Lisburn Council will have to do more to stop the sectarian attacks on his home.
"I shouldn't have to put up with these attacks. This is just the start of it for this year and I have no doubt that people connected to the nearby bonfire site are responsible."
Sinn Féin Lagan Valley Councillor Paul Butler called on unionist leaders to do all in their power to put an end to such sectarian attacks.
Catholic homes attacked in Ballynahinch
A group of drunken loyalist youths, some of whom were wearing band uniforms, smashed windows in a number of houses in Ballynahinch during the early hours of last Saturday morning. They shouted sectarian abuse at people in Hillcrest Drive, damaged a parked van and urinated on a number of cars.
South Down Sinn Féin MLA Willie Clarke said the attack was totally unacceptable behaviour that was designed to instil fear in the nationalist community of the town.
"After speaking to a number of residents it is clear some of the people responsible were members of a local loyalist band and were obviously intoxicated," he said. "It seems much of this behaviour can be directly attributed to the onset of the marching season and there is a genuine fear amongst the nationalist community that these type of attacks are set to escalate."
This latest sectarian incident follows a recent upsurge in unionist violence in the area that has included an attempted murder bid in Langley Road, hoax pipe bombs left outside Sinn Féin advice centres and a shotgun fired at a house in Dundrum over the weekend. This has been accompanied by the erection of unionist paramilitary flags and the painting of anti-Catholic graffiti in places like Ballynahinch, Clough and Kilkeel.
SF urges dialogue to end Derry attacks
Derry Sinn Féin Councillor Gerry Mac Lochlainn says sectarian attacks into or from the loyalist Fountain Estate are "totally and equally unacceptable".
Mac Lochlainn was speaking in the wake of a loyalist petrol bomb attack on the Bennett Street home of a woman in her 70s just after midnight on Saturday 29 May. Two petrol bombs exploded on the roof of the pensioner's home, but only caused scorch damage.
It was the second petrol bomb attack on homes in the Bishop Street area, which borders the loyalist Fountain Estate area, within two weeks.
Meanwhile, Mac Lochlainn has described as "young thugs" those who attacked three schoolgirls and a four-year-old boy with paint bombs as they stood in the garden of a house in the Fountain Estate.
The schoolgirls, who were in the front garden of the house in the Fountain, were cut with flying glass after bottles containing paint were hurled at them and the boy at around 10pm on Monday 31 May.
In a previous attack on the Fountain on Sunday night 30 May, a petrol bomb thrown from the New Gate area by nationalist youths, struck a car parked in the Fountain Estate.
Calling on all political parties to work together to end these sectarian attacks at the interface, Mac Lochlainn said: "I think it is time that politicians from all parties came together to support the residents of the Bishop Street area and the Fountain to try and stop these attacks before someone is seriously injured or killed."