3 June 2004 Edition
Eastern promise
BY JOANNE CORCORAN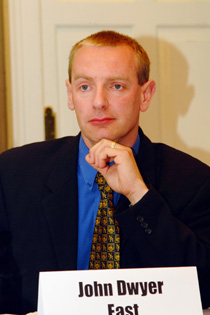 Over the phone is never the best way to conduct an interview with somebody. Aside from the usual problems of not being able to hear the person on the other end and having to jot down answers at top speed, holding the phone with one hand and the pen in the other, there's also the difficulty of having to guess your subject's mood — something you can gauge easily in a face-to-face interview. I expected all of these problems and more when I spoke with Sinn Féin's East EU candidate John Dwyer last Monday. Somehow the fifth and final candidate in An Phoblacht's series of EU interviews had managed to evade me any time he was in Dublin, hence the phone interview. I was pleasantly surprised by the experience, however. If John can be that friendly, frank and entertaining on the phone, he must make a great impression in person.
John went right back to his school days in Wexford to explain his interest in republicanism to me.
"It's amazing; when I left school at 17, I was completely pissed off with the whole education system," he told me. "I decided that formal education was not for me. I was disruptive in class and I mitched a lot. I came from a working-class background and there weren't enormous expectations from me in the school I was in. And I became conscious of the class issue there also. I knew that if you came from a certain part of town or whatever, you were treated differently. So I suppose there was a lot of resentment on my part.
But it was only later I realised that I had learned so much about Irish history during that time. I was in a Christian Brothers' school, and a Waterford man, Brother Gleeson, would tell us never to forget our history. That stayed with me all my life."
Political involvement
Right after leaving school, John was passing a factory and decided to apply for a job. The next day he started work.
"My mother nearly had a stroke," he said. "It wasn't exactly the career move she had in mind for me."
Within three weeks, John was on strike with the rest of the workers, in solidarity with a man who had been treated badly by the Dutch firm that owned the factory.
"It was then I realised the importance of unity amongst workers," John said. "The strike fell apart before long. There was no unity. If an employer wanted to create disharmony, he would just offer overtime or something."
John quickly fell into the Trade Union Movement, becoming shop steward of the factory. At the same time, he became involved in the Smash the H-Blocks campaign.
"There was no politics in my family at the time," he told me. "But my mother and father were delighted that I had the interest. They told me to do whatever I had to do."
During the '80s, John was approached by members of other parties, who asked him to join them. In his own words, he was "love-bombed" by the Socialist Workers' Movement.
"I recoiled in horror when Fianna Fáil asked me to join. With the SWM, even though I was socialist, I realised that there was more to politics than catchy slogans. Politics is about bread and butter issues foremost, and I thought they missed that point."
Militant tactics
Shortly afterwards, John was elected Vice-President of the Waterford Branch of the ITGWU which, he said, was the most militant branch of the union in the country.
In 1999, he was approached to run for Sinn Féin in the local elections in Wexford.
"I didn't think I'd be elected," he said. "But we got 129 first preference votes. I can tell you where every one of the votes came from."
After 18 years of working in the factory, John turned up to work one day and it was closed. "The Dutch firm had decided to outsource work to another country, but they didn't tell the workers. They tried to offer us £2,000 to go away, but we refused point blank. We had a sit-in, and we set up websites revealing what the company was doing. That sort of thing was virtually unheard of at the time. So in the end they settled us with redundancy packages of £20,000 each. Those votes were from the factory workers."
At this point of the interview, John cut me off to tell me that at that very moment, the chair of New Ross Council, where John is a councillor, was at his door trying to canvass. "That's hilarious," John said. "He's Fianna Fáil."
John let his wife Lorraine, chair of the local Sinn Féin cumann, answer the door. The two are just married and went to Tunisia on their honeymoon.
"It was an amazing break," he said. "But I was only back in the country a few hours and the phone was ringing off the hook."
The party, according to John, is beginning to grow in Wexford, no small thanks to his being chosen to run as the EU candidate in the East.
"We had a problem here for a while in getting people elected," he said. "We're getting back on our feet now, but there's no doubt that this election is a big thing for Wexford Sinn Féin."
Health and crime
John's main concerns in the EU and local elections are health and crime — both for very good reasons. Two years ago, his mother died from cancer, and he firmly believes that had she lived in Dublin or Cork, she would have survived.
"It was soul destroying seeing her having to travel for treatment, because there was nothing in Wexford to help her," he said. "The health service in this country is woefully inadequate, and I know what I'm talking about. Then, on my mother's return from her last treatment in St Luke's Hospital, she discovered her house had been robbed. It was just unbelievable, and it brought home to me how crap the government is on health and crime."
John himself was a victim of crime three years ago, when he had a cider bottle smashed over his head in an unprovoked attack, which required 58 stitches. "I went straight to the papers after the attack to highlight the state the country is in when it comes to securing its citizens, and my political opponents at the time tried to make out I was doing it all for publicity. Like, as if I had planned for two fellas to jump out of a laneway and smash a bottle over my head!"
At a consistent 8-9% in the polls, John is doing well in this EU campaign. I asked him if Europe was a big issue with the people he was meeting.
"No, it's not," he replied. "The truth is people don't ask me questions about Europe. I think Fianna Fáil and the rest of them have made Europe so inaccessible to the everyday person. And yet, it's an issue we have to take so seriously. So much of our legislation is being passed through Europe, and we have to have a strong voice there arguing for what we want or don't want included. I think Sinn Féin is that voice."
Whether or not John gets an EU seat this time round, there is no doubt that he is a valuable asset to the party for the future. With almost four and a half thousand votes in the last general election, the Wexford man is building a massive profile in his constituency.