3 June 2004 Edition
Special Branch still trying to recruit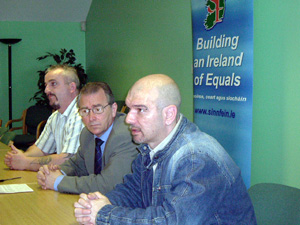 Two Belfast men told a press conference on Tuesday 1 June how members of the PSNI Special Branch had approached them and asked them to become informers.
Paddy Larkin from Ardoyne told the Sinn Féin press conference that members of the PSNI started to put pressure on him after he had been charged with possessing an offensive weapon last year.
A catapult was found in his car while he was travelling to watch a Glasgow Celtic match and he was charged to appear at court in Stranraer. When Larkin was due to appear in court he was arrested in Belfast by the PSNI.
Said Larkin: "The PSNI handcuffed me and brought me to the harbour in Belfast to bring me to the court in Scotland. While in the restaurant on the boat, a PSNI member showed me a wallet full of money and said that if I helped them they would help me. I told them 'no chance'."
Larkin said he was approached again as he sat in the cells at the court, when one of the PSNI members told him he "could sort this out" for him.
"Again I told them I wasn't interested in helping them. Since that episode I have received countless phone calls from the PSNI asking me if I had changed my mind. I even changed my phone but they got the new number and continued to call me and ask me to inform. I wish they would just leave me alone."
West Belfast man Gerry McCann, who also appeared at the press conference, said that the PSNI put pressure on him to become an informant following his arrest last June for assault.
"They told me my charges could 'disappear' if I kept an eye on known republicans in West Belfast. I went to Sinn Féin about the approaches from the PSNI who told me to log all the details with my solicitor."
Sinn Féin Assembly member Michael Ferguson, who accompanied both men at the press conference, said that the approaches to the men illustrated "only too well that the Special Branch's dirty war against the nationalist community continues.
"Sinn Féin has received other reports of similar Special Branch activity across the Six Counties," he said and the party would continue to monitor the situation.
The Sinn Féin MLA criticised the Policing Board, saying "the activity of Special Branch is never discussed by this body because they are powerless to do anything about it.
"Also those, in particular the SDLP, who support the current policing arrangements need to answer questions about this Special Branch activity, running agents, trying to recruit agents and still spying on the nationalist community".
Ferguson stressed the need for anyone who found themselves in a similar situation to come forward and "contact a solicitor, a priest, Sinn Féin or anyone in the community to expose this behaviour and get it stopped".