3 June 2004 Edition
Ending isolation in the West
BY ROISIN DE ROSA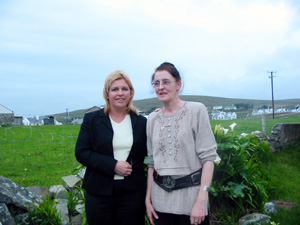 "People, especially women, want change — it's not just a slogan," says Rose Conway Walsh, who is standing in Belmullet for Mayo County Council. "There is a huge issue of poverty today for the people who have been left behind, particularly in rural areas. I know this. I work in a community development project, and I see it all around me. People in Dublin have absolutely no idea what under-development of the West means in everyday life.
"It's all very well talking about 'centres of excellence', but when it's a 100-mile round trip to Galway for orthopaedic care, or you have to take the whole day off work for ante or post natal care, when there is no public transport service or the roads are in such a poor state, you realise that services have to be brought to the people.
"Health is one of the biggest issues. You've to pay €40 to the doctor and on top of that you've a prescription of €50 or €60 — you just don't have the money to buy the stuff. There's no tax relief on child care. So women, specially single parents, just can't afford to keep working; they can't afford to lose their benefits. You can't take up a job. You're trapped.
"The biggest challenge to us is not to become institutionalised — otherwise we're wasting our time, our opportunity. People are prepared to give Sinn Féin a chance — they are prepared to back us in this — in bringing change.
"But we need to be very careful and not follow what the other parties have done. Discrimination against people in the West has to be addressed. Dublin is not the only area that counts. Even if most of the population lives over on the East coast — that is not the centre of everything. We're just as important.
"We in Sinn Féin need to make a significant difference to peoples' lives. It's about empowering people, facilitating them to get their rights.
"I don't want a united Ireland the way we are. I mean, I am disgusted with Michael McDowell's response to the different reports on poverty in the state: his reaction to people living in poverty is that we are going to have poverty, whatever — like it or lump it.
"There is something deeply rotten in a society captivated by a policy of low taxation when it affects areas such as ours, where people are forced to an absence of essential services for people, like health.
"We cannot let things go on as they are for the people of the West. Things have to change, and they will change."