3 June 2004 Edition
Time for Change Vótáil Sinn Féin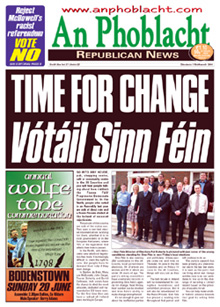 Go into any house, pub, shopping centre, café or community centre in the 26 Counties and you will hear people talking about how rubbish the Fianna Fáil/ Progressive Democrats Government is. In the North, people who voted in an Assembly last year are sick of direct rule and a Peace Process stalled at the behest of unionist rejectionists.
The people of this country are sick of the status quo. They want to see their elected representatives working for them, whether it is in local government or in the European Parliament, where 70% of the legislation that affects their lives is passed.
In the North, anti-democratic new electoral legislation has made it increasingly difficult to claim the right to vote. But people have to demand their vote if they want change.
In Bairbre de Brún, Mary Lou McDonald, John Dwyer, Pearse Doherty and David Cullinane, Irish voters have the chance to elect the most articulate, dedicated and representative EU team ever. For the first time they can have a radical all-Ireland team working in Europe.
Sinn Féin is also running 253 candidates in the 26-County local government elections, 55 of whom are women and 59 of whom are under 35 years of age. The party's sitting councillors have exemplary records in promoting Sinn Féin's agenda for change. Next Friday, their number can be doubled and Sinn Féin's ability to make change strengthened.
It's not enough to give out about the ineffective parties and politicians. Unless people come out and vote on Thursday 10 June in the Six Counties and on Friday 11 June in the 26 Counties, things will stay just as they are.
The last decade in Ireland will be remembered for corruption revelations and unfulfilled promises. But it will also be remembered for the Peace Process. Sinn Féin has played a leading role throughout that period and will continue to do so.
The party's support has been growing at a phenomenal rate in the last few years. It is seen as the party that can bring about real change and the onus is on our candidates to live up to the challenge of securing a United Ireland based on the principle of equality for all.
You can help make another historic advance towards that goal by voting Sinn Féin.