3 June 2004 Edition
Sinn Féin launches 'Positive Neutrality in Action' proposals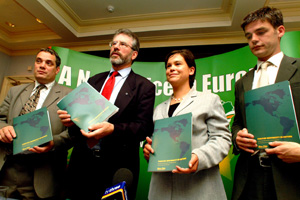 Sinn Féin launched its policy document Positive Neutrality in Action on Friday. Sinn Féin President Gerry Adams was joined at the news conference by Sinn Féin International Affairs Spokesperson Aengus Ó Snodaigh TD, Dublin EU candidate Mary Lou McDonald and local Dublin candidate Killian Forde.
The party proposes an independent and progressive Irish international relations policy that opposes military alliances and works for international co-operation and conflict negotiation leading to democratic social change and respect for human rights, universal demilitarisation and nuclear disarmament.
"Support for Irish neutrality is a core republican value," said Gerry Adams. "It has never been more relevant than at this time of great volatility in international relations.
"Despite what Fianna Fáil, Fine Gael or the PDs may think or want people to believe, neutrality is not about isolationism, or sitting idly by as a disinterested observer. Rather it is about active engagement in the global community, and the relentless pursuit of global justice through peaceful means.
"Sinn Féin does not support Irish involvement in NATO or any other standing military alliance of any kind. However, for us neutrality does not stop with non-membership of military alliances. It goes further. It means taking fuller responsibility by refusing to facilitate international conflict in any way. It means working for international co-operation and conflict negotiation, democratic social change and respect for human rights. It means working for universal demilitarisation and nuclear disarmament.
"Our policy assert Ireland's rights and responsibilities as a neutral state as outlined in the Hague Convention. By definition, this precludes direct collusion with belligerents. It also involves taking the necessary steps to ensure that Human Security is achieved for all people, everywhere.
"This Government has pursued a policy of abandoning Irish neutrality.
"The so-called 'Caring Coalition' does not offer a clear alternative. Fine Gael is to abandon neutrality in favour of an EU Common Defence. While Labour, the Green Party and others supported Sinn Féin's Constitutional Neutrality Bill last year, Labour also supports building an EU Common Defence.
"Sinn Féin offers a clear policy alternative. Positive Neutrality in Action is about ensuring that Ireland not only maintains its neutrality, but strengthens its engagement in global affairs. This reflects our broad commitment to the demilitarisation of conflict, on this island and beyond, and our view that 'Human Security' must be at the core of such a policy. Positive Neutrality in Action is a policy with immediate relevance for Ireland today and will be at the heart of an international relations policy for a future United Ireland."
Sinn Féin's policy of Positive Neutrality in Action requires:
• Neutrality to be enshrined in the Irish Constitution and codified in legislation.
• Withdrawal from the EU Rapid Reaction Force and NATO's Partnership for Peace.
• I rish troops to train and serve abroad only under the auspices and leadership of the United Nations, and only with prior Dáil approval.
• No use of Irish airports, airspace, seaports, or territorial waters for preparation for war or other armed conflict by foreign powers.
• An end to Irish involvement in the arms trade and profit from war.
• Clear recognition and legal protection through a binding Protocol of Irish neutrality in any new EU Treaty.
• Active promotion of demilitarisation of the EU.
• Formation of alliances with other progressive, neutral states to promote a Human Security approach to international relation.
• Active promotion of UN primacy, UN reform and capacity-building to create a revitalised UN capable of fulfilling the promise of the Charter and Universal Declaration of Human Rights, and of upholding international law.