3 June 2004 Edition
No county has suffered more from partition
BY ROISIN DE ROSA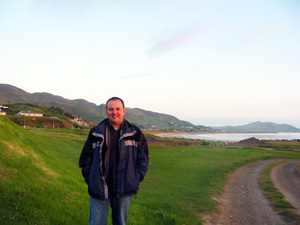 "You know the way, when you are in jail, you have a picture in your mind of the place you love. This strand was that picture for my father, which went with him through the jails in England. He used to run along the strand here at Luddon Beach every morning. It's like it's ours - it meant so much to him."
Pádraig Mac Lochlainn's father, Raymond, after ten years in English jails, died in 1983, aged 34. "I'm nearly his age now," says Pádraig. "He never had the chance to do this type of political work — he was the 'reluctant soldier' — it had to be done to make all of this possible. But he would love to have had the freedom to pursue this struggle where it is at today — to change things, to empower people.
"He had very strong ideas about the economy — a great admiration for James Connolly, the broad struggle for social justice — a true internationalist in the global context.
"All our work here is about developing a politics that confronts cronyism, to make government accountable and transparent. We are about giving a voice to poorer people who are not heard — the lone parents, the unemployed, the rural people, the small farmers and fishermen.
"Take the fishermen here in Lough Swilly. The smaller operators fishing for mussels are being forced out by the Department of the Marine, who are sponsoring the seeding of mussels, harvesting with dredgers and decimating the natural beds. The government has not cared about development of Greencastle as a port and has missed huge opportunities.
"The fishing community has perhaps suffered more than any other. With the Common Fisheries Policy, Ireland was not even at the races in the original negotiations concerning retaining control of our fishing waters, which were never negotiated on an all-Ireland basis. At last, there is beginning to be a recognition that fishing communities must have some say on the fish quotas and how they are to be managed.
"There's a very unhealthy political environment here in Donegal, which has been represented by one party, Fianna Fail, which has no vision, has grown arrogant and complacent. And there's a separation of the party councillors' working at local level and what their party in government is doing. This is the crux of their abuse of power.
"My constituency, Inishowen, is the second most disadvantaged area in the 26 Counties, second only to Ballymun. No county has suffered more from partition.
"There are some 400,000 people in the Northwest Cross Border Region, yet cross border projects are few. The civil servants who administer education, or the health service, or inward investment have a vested interest in retaining duplication of services. They fear for their jobs.
"This reluctance to engage with change is rubber stamped through the relationship between the civil servants and the block votes of establishment parties on the council. They don't have the vision or capacity to grasp the potential of cross-border integration to overcome the economic disadvantage this area suffers as a result of partition.
"We are one region — at least half my neighbours work in Derry or Strabane — yet administration of services stops at the border. It's crazy system that Sinn Féin is challenging.
"And you have a separation between local politics and national politics. The block vote on the councils sees through Dublin Government policies uncontested. Local establishment politicians pay lip service to local development and then as members of the governing party support policies that act against it.
"Mary Coughlan at one stroke changed a good scheme for unemployed people, which was supporting some 350 people on the way back to the workplace. She brought in a requirement that people be over five years unemployed to avail of it. Now no one avails of it anymore.
"These parties have to be made accountable for the actions of their party in government.
"Our all-Ireland agenda is to promote integration and social justice for one of the most deprived and economically disadvantaged areas in the 32 Counties. These are the real opportunities we face to make a difference to peoples' lives here in the Inishowen peninsula — what my father would so much like to have been a part of."