27 May 2004 Edition
Threats and attacks on prominent nationalists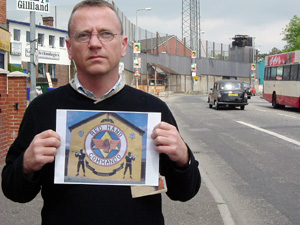 Anti-collusion campaigner threatened
Sean Osborne, a spokesperson for the anti-collusion campaign group An Fhírinne, has recieved a death threat from the unionist paramilitary gang, the Red Hand Commando.
The grouping, which has links to the UVF, is currently embroiled in an internecine feud with the LVF.
The threat, which took the shape of a photograph of a Red Hand Commando mural from the Bloomfield Estate in East Belfast, arrived in the post on Wednesday 26 May.
"The worry is that after their feuding stops, these loyalist killers will once again start to target Catholics," said Osborne. "People need to be vigilant."
Sinn Féin man's home attacked
Sinn Féin Chairman of Cookstown District Council, John McNamee, said loyalists were behind the attack on his Orriter Street home in the early hours of Tuesday 25 May. Two men threw a large concrete slab through the livingroom window of the McNamee home as the Sinn Féin man and his family were in bed.
McNamee said he heard a loud bang. "We didn't know what it was. I went downstairs and looked in the livingroom; it was destroyed, there was glass sprayed everywhere".
McNamee said the PSNI told him they arrested a man who lives in the predominantly loyalist area of the town.
Loyalists issued a death threat against McNamee when he was elected chair of Cookstown Council in June last year and a neighbour's window was broken last autumn by a brick wrapped with a note purporting to come from the UVF.
McNamee said he believed loyalists targeted him after he commissioned a new chain of office inscribed in Irish for the council.
South Belfast representatives under fire
The Lower Ormeau Road home of Gerard Rice, (above) who acted as the spokesperson for Lower Ormeau Residents over contentious Orange Parades through the area, was attacked by loyalists on Friday night 21 May.
The front window of Rice's home was blasted with a high powered air rifle, which damaged the front sitting room window.
This attack occurred just 20 minutes after SDLP Assembly member Carmel Hanna's house was targeted in a carbon copy attack.
Hanna was also targeted in sectarian graffiti at the Whitehall apartment complex in the Loyalist Sandy Row area. The complex has been the focus of sectarian protests and attacks by loyalists over the past month.
Rice said unionist paramilitaries were waging a sectarian terror campaign against nationalist representatives in South Belfast.
"They seem to be fulfiling the expectation that there is going to be a long hot summer for nationalists," he said. "Representatives from the nationalist community are slowly being picked off in intimidatory attacks."