27 May 2004 Edition
The history makers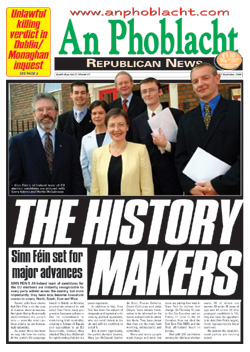 Sinn Féin set for major advances
Sinn Féin's All-Ireland team of candidates for the EU elections are instantly recognisable to every party activist across the country, but more importantly, they have now become household names to voters, North, South, East and West.
Recent polls have shown that Sinn Féin is on the cusp of massive electoral success. And given that polls normally underestimate the party's vote — even the most cautious among us are increasingly optimistic.
As usual, there has been no easy ride from the media. At the party's EU campaign launch in Dublin on Monday, journalists refused to ask about Sinn Féin's many progressive European policies — like its commitment to enshrining Irish neutrality, creating a Europe of Equals and opposition to an EU Superstate. Instead, they attacked Mary Lou McDonald for rightly stating that she is a peace negotiator.
In addition to that, Sinn Féin has been the subject of desperate and hysterical criticism by political opponents, who can smell defeat in the air and will try anything to curtail it.
But at every opportunity, the party's standard bearers, Mary Lou McDonald, Bairbre de Brún, Pearse Doherty, David Cullinane and John Dwyer, have shown themselves to be informed on the issues and well able to articulate them. They have shown that they are the most hard working, enthusiastic and committed.
More and more people want change and more and more are putting their trust in Sinn Féin to deliver that change. On Thursday 10 June in the Six Counties and on Friday 11 June in the 26 Counties, they can elect the first Sinn Féin MEPs and the first all-Ireland team in Europe.
And with 253 candidates running for 204 local election seats, 55 of whom are women, 59 under 35 years of age and 46 under 30 (the youngest candidate is 18), they also have the opportunity to elect Sinn Féin's largest, most representative local team ever.
No wonder the establishment parties are running scared.