27 May 2004 Edition
God is crying for us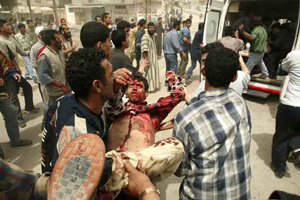 Between 13 and 19 May, 52 Palestinians, 41 of them civilians, including nine children, were killed by Israeli forces in the Occupied Territories. Forty-five of the victims were killed in Rafah, eight when Israeli helicopter gunships and tanks attacked a peaceful civilian demonstration.
In Rafah, by the time the Israelis pulled out temporarily this Tuesday, 180 houses were destroyed and hundreds of Palestinian civilians made homeless. In his second report from Rafah, Irish human rights worker EOIN MURRAY gives an eyewitness account of the devastation and despair in the refugee camp.
Last Wednesday night I tried to sleep. It was a hopeless task. The adrenaline still charged through my body, the events in Rafah still fresh in my mind. The adrenaline had been pumping from the minute we made the decision to break for the border, to go to Rafah.
Rafah, scene of the largest Israeli military incursion since the start of the Intifada; Rafah, a packed town and refugee camp with narrow streets between each of the tiny concrete houses; Rafah, home to ongoing and overwhelming military destruction.
The car journey from Gaza was surprisingly easy. We passed through the Abu Houli checkpoint (where five settlers were killed recently) with some ease — five of us, human rights workers, and our taxi driver, in a stretched yellow Merc, the type they use for funerals in the west. I hoped it wouldn't turn into a hearse to carry us back. None of us, even seasoned locals, knew quite what to expect. The journey down was lighthearted: we were kept entertained by a humanitarian aid worker from UNRWA who pointed at us like he was holding a machine gun, laughing, telling us we would all be targets for the Israelis.
As we reached the outskirts of Rafah we began to formulate a plan of access. News had reached us the day before that a number of journalists from Arabic TV stations and one from the Irish Times had used a dirt track to gain access the day before. However our local intelligence suggested that the route had been blocked off again by the Israelis.
Encounter with a tank
Ahead of us we saw a convoy of Jeeps, all white, flying the flag of Doctors Without Borders/Médecins Sans Frontières (MSF). We stopped to talk and received a briefing from their staff, who were about to try and brave a main road into Rafah, despite the presence of an Israeli tank only 500 metres ahead, blocking the way. After some discussion we agreed not to follow them so as not to jeopardise their humanitarian mission. We waited to see what would happen. We were certain that as the dust blew around us and we stared at the IDF tank that our local taxi would never be given permission to cross.
We frantically called the Israeli military command in Gaza. One officer told us "what you do there — I don't want to know about it". After about an hour the MSF team had negotiated their way past the tank. We decided to walk across the no man's land between ourselves and the tank. We had no permission to enter. We would have to negotiate. To our east, the noise of bulldozers razing land could be heard. We saw smoke rising in the air from various parts of Rafah on the horizon.
We walked, our arms held clearly to the side, each step perforated by the sound of our own heavy breathing. Our feet shuffled — waiting for some sort of a signal as to whether or not our actions were permissible. Suddenly, our taxi driver received a phone call saying that the Palestinians had opened a small dirt track that would allow us to drive into Rafah. Breathing a sigh of relief, we turned and avoided a confrontation with the tank.
Gaining entry
The dirt track we moved along had just been cleared. The frames of mangled greenhouses that had blocked the road had been moved aside. The artificial sand dunes that had blocked the road had been flattened and moved aside so that our cumbersome taxi could navigate over them. The farming land to either side of us had been decimated, razed by Israeli bulldozers. After 20 minutes of bumpy driving we crossed into the outskirts of Rafah. We were in.
The journey into the camp itself took us past the small clinic that passes for a hospital in Rafah. The scene outside was chaotic; ambulances queued to get in, people queued to give blood. I say queue but it wasn't anything like standing in line at the bank — throngs of cars, people, police all going in opposite directions, little effective co-ordination, shock on the faces of everybody. The day was only beginning.
We decided to try to go to the most dangerous areas, where the most extensive destruction had been in the past week, beside the Egyptian border.
Broadly, Rafah is divided by a street called ilBahare (the sea), with Yibna camp to the west and Shabura to the east. Within each of these camps are small areas with names like Brazil, Block O, Block J, and Canada. As we wind through the streets of Rafah our phones are constantly ringing with updates on the situation. People are telling us where the tanks are, telling us that the IDF was rounding up all the men and requesting them to go to Canada camp. Apparently, they requested all those with weapons to approach with a white flag. We later learned that 50 men were arrested at the camp that evening, the others were let go having been detained in the searing sun all day.
One phone call came through telling us that there was a march planned for later that day. Something told us it was a bad idea.
Block O
Arriving in Block O to speak to people, to hear their stories, we were shocked. Usually on a trip to Block O, or the areas near the border, one expects to be swarmed with people. Women, children, men all wait around shouting, laughing, crying, but glad that somebody is here to listen to their stories and their lives. Block O is normally thronged with people, is usually overwhelming. We saw two wake houses on our way there. After a death in Gaza, families invite people to their homes for three days to mourn the dead. But these were almost the last people we saw. Block O was empty, desolated, destroyed, demolished, appaling. I can run adjectives into the ground until I can find no more meaning in them because they do not express a fraction of the destruction. The words I have do not suffice. The wind whistled through alleyways that once served as pathways between the tightly packed homes. Now the homes are gone, well over 100 in the space of two days. Those homes that have not yet been demolished are empty, many of them riddled with bullets.
We walked through the area, once the busiest market in all of Gaza and the Sinai. On a Saturday morning 50,000 people, Arabs, Bedouins and others, could be found buying, selling, trading - living.
Total destruction
Nobody, nothing, complete destruction. The IDF has asked the Israeli Attorney General for permission to demolish these homes as they are now abandoned. What would you do if the tanks came in the middle of the night? Would you abandon your home in the hope of saving some possessions? Would you go, in the hope of someday returning? These people have become refugees, again. If the Attorney General grants the request, another 500 to 600 homes near the border area will be demolished.
The IDF claims that the houses are used for tunnels and to provide cover for militants. They claim the death of Israeli soldiers the previous week provides the "immediate military necessity" required before house demolitions can take place. This, despite their announcement on 28 April that they wanted to widen the Philadelphia route (the fence which runs inside the Gaza side of the border with Egypt).
Prior planning negates immediate military necessity. It is improbable that all of the homes that have been destroyed are used by militants, that all of them are used for tunnelling operations. This is part of a process designed to treat each Palestinian as a 'terrorist'. That kind of treatment will turn each Palestinian into a fighter.
We spoke to one woman who was still evacuating her home. She told us that last Thursday the family were busy planning her daughter's wedding when the tanks came and began shelling the houses in the area. Her house was set on fire. The only other exit route was blocked by tanks. Her children knocked, with their hands, a small hole through a rear wall so that they could escape. As she showed us this wall she said to us "if Sharon could see this hole he would say it is a tunnel".
Her oldest son showed us the many shells from the tanks that were scattered around the area, six or so inches long and half an inch wide. Her youngest son, eager to assist in this 'show and tell', began to search his pockets. He produced shrapnel from high velocity bullets that he had been collecting. His tiny hand was full of them.
We saw upstairs in the house, which was on the point of collapse, where the fire had been, where the shells and shrapnel had lodged in the walls or floor.
As we left Block O and drove back to the centre of Rafah, we were astounded by the sheer ghostlyness of a place which had once been thriving with people, albeit destitute because of poverty and massive unemployment. Heading back to ilBahare Street, we saw children, in their neat uniforms, coming from school. The UNRWA schools have all been evacuated to house families driven out of their homes, so the children have been placed in makeshift schools on shift systems so that all of them get some education, some semblance of a normal life.
The state exams start soon, for the older ones. I wonder how I would have been able to concentrate on my studies in the midst of this.
Helicopter attack on marchers
At the bottom of ilBahare Street, we saw a small number of demonstrators beginning to gather. Maybe 100 people - we all hoped that the number would stay small and insignificant. We went to another area near what is called the Selahadeen Gate. The same scenes of emptiness greeted us. We stepped carefully across the Selahadeen road, mindful of the IDF watchtower looming over us we listened to the sound of the 'Drones' above. These unmanned Israeli planes can apparently take real time images of what is happening on the ground and pass it to military commanders, consequently the IDF are very informed about each operational decision they take.
We walked around for some time. I saw the desolated petrol station. On my first trip to Rafah I had spoken to the owner, who told me that he had been forced out of his home and that soon he expected his business would be destroyed, located as it was at the centre of one of the key friction points. Now his prophecy had been fulfiled; it was gone.
We could hear the noise of a crowd developing a short distance away from us, it was obviously the protest which had grown in size (we now know it was 3,000 people). At least three Apache helicopters hovered above. One began firing. First it fired 14 heat-seeking decoys over the crowd. Then we heard a thundering burst of gunfire and tucked ourselves up against a wall, unsure of the source or direction. We watched another Apache turn and head in what seemed to be our direction. Then three loud explosions, clearly and distinctly, shelling coming from the direction of the protest. It took only seconds for the news to reach us: the demonstration had been hit. In disbelief, we ran back to our car to go to the scene of the destruction.
Israel's incredible excuses
The Israelis have now stated that the events last week involved a number of possibilities.
Firstly, they argued that the area was "saturated with explosive devices" planted by Palestinian militants. This is a particularly cowardly and feeble excuse. Then later they claimed that they were firing warning shots at the crowd. If this is true, then the question must be asked what kind of democratic country uses tanks and Apaches to fire warning shots at demonstrators. In most countries, water cannon is deployed, in the Six Counties plastic bullets. But to fire rockets on a crowd that appears, from the TV images, to have been unarmed is a unique approach to a public order problem.
We surveyed the destruction from the top of the tall Municipality building which overlooks ilBahare Street. We watched as bloodied kids were carried to ambulances, three being put in the back of each one due to limited resources. Reports were coming in of scores of injuries and deaths ranging from 5 to 25, as yet unclear. Plumes of smoke suffocated the camp. East, west, north and south we could see tanks and bulldozers operating. Heavy firing was coming from the border area, where we had just been. We could see the gunfire lighting up the positions of those firing.
Police cars drove around the streets hollering from megaphones that the hospital needed more people to give blood. One Arabic journalist came to the rooftop that was the de facto centre of press operations. He was sweating as he ripped off his bulletproof vest.
The pictures you saw on the TV were his. "My legs they were jelly, jelly," he repeated over and over again. The chaos continued as taxis and ambulances, police cars and fire trucks all carried wounded to the tiny medical centre trying to function as a hospital. The sound of sirens pierced our ears. People could be heard shouting, screaming, crying with angish and despair, their arms held aloft in disbelief.
One of our party, from Rafah, had a brother reportedly in the hospital who could not be contacted. We waited for the news until eventually his wellbeing was established.
Leaving Rafah
Shortly after, we reluctantly, but prudently, opted to leave Rafah. Adrenaline is the human response that demands a fight or flight reaction. We chose flight.
The difficulty of the return journey was inevitable. Also we had planned a visit to the al-Mawasi area, where Palestinians have been forced to register as residents. The whole town is caged off and each resident has to have an electronic card to enter through the cattle-like turnstiles. There are no shops in al-Mawasi and it is common for those leaving to be kept waiting for unbearable periods of time. Most of the 60 people we met had been there for a day and half, some as long as three. Their fresh produce was rotting in the sun, necessitating another trip outside almost immediately after they get back to their homes. But their stories are for another day.
I still recall the last woman I spoke to before I left Rafah. Our car had stopped to buy some provisions in a shop, in case we were stopped for long hours at the Abu Houli checkpoint, which divides Gaza north and south. She approached me, her face was wrinkled and worn.
It had begun to rain in Rafah only minutes previously. She held her arms in the air, tears or rain running down her face. Her tears got caught in the crevices of her face, running like tiny streams through a rock formation. She cried out "Allah bibki, Allah bibki. (God is crying [for us])"