13 May 2004 Edition
Ferris joins Clare canvass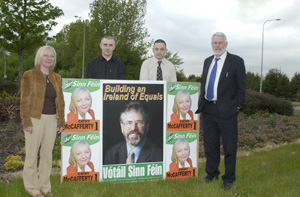 Kerry TD Martin Ferris was in Clare on Saturday, where Sinn Féin is running four candidates for six seats for the first time. Ferris arrived in Killimer, where he met with 16 workers fighting for their jobs with the Clare Local Employment Service, whose employment was terminated on 31 January. Ferris said he was impressed with their determination to secure their jobs to get back to providing an outreach service to those most in need.
"In particular, I was impressed that the workers have refused redundancy payments in order to secure the service," said Ferris. He added he was hopeful, following a statement from Minister Frank Fahey that FÁS is favourably disposed to re-establishing the service, that the jobs will be reinstated.
After stopping to canvass support for Gerry Malone in Kilrush and Kilkee, Ferris travelled on to Carrigaholt, where he officially opened sculptor Paddy Hassett's Phoenix Gallery. Speaking at the unveiling of Hassett's latest sculpture, the Healing Process, Ferris said he was touched by the sentiments expressed in it.
"I come from a situation of having been involved in armed struggle," he said. "I am now involved in conflict resolution. Part of that conflict resolution involves a healing process and this sculpture represents everything that Gerry Adams, Martin McGuinness and myself are about, breaking the chains of the past; ending oppression and injustice and seeing people for what they are."
Ferris recalled pulling into Kilbaha in 1973. "I was fishing at the time and I got to know Carrigaholt, Kilbaha, Doonbeg, Kilkee, Kilrush and all that coastline. The people of Clare are very close to my heart and to the hearts of Kerry people generally, because we all come from the same type of rural environment that has been neglected by successive governments in this state."
Martin said he was very impressed by the reorganisation of the party in Clare and by the determination and work ethic of its activists.
He accompanied Gerry Malone, the candidate for West Clare, through Kilrush, Kilkee and Carrigaholt, where they received a good reception. Moving on to Ennis, he accompanied Ennis Town Council candidate Paddy Naughton on a canvass through the streets of the county town. Again they were well received. In Shannon he went on a canvass with Cathy McCafferty, Sinn Féin candidate in both the Town Council and County Council elections.
"I think we are going to do very well this time out," he predicted. "Although it is hard to quantify in those areas where we are contesting for the first time in many, many years, I wouldn't be surprised if we take a few more seats here in Clare."