13 May 2004 Edition
Bogtrotters under surveillance
BY GAY CLERY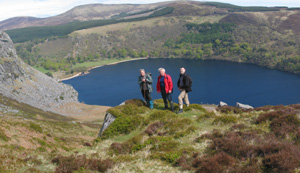 Wherever our group of walkers turned in the hills last Saturday, they were being closely watched, by deer, deer everywhere, hundreds of 'em, all watching.
Once more our Bogtrotters were following the footsteps of General Joseph Holt, the 1798 leader.
On 10 May 1798, small farmer Joseph Holt returned to his home near Roundwood after working on the bog all morning only to be warned that Thomas Hugo of Drummin (the local magistrate) was on his way with a strong force of yeomanry to burn his house and most likely murder him if they could .
The wise man that he was, Holt headed for the hills and later learnt that his farm and property had indeed been destroyed and his wife and two children thrown out on the roadside.
Just across the mountain from here, our Bogtrotters were perched high above the Cloghoge Valley and this is where Holt made his base of operations in May and June 1798.
On 29 May, Holt led a band of rebels to attack Hugo's mansion, known as "Slaughter House" but they were driven off by dragoons and yeomanry who rushed to the spot from another clash near Roundwood. Hugo immediately led the Newtownmount-kennedy Cavalry and a party of the hated Ancient Britons to the Cloghoge village in this quiet valley, murdered many of its inhabitance and burned every house to the ground.
Holt soon avenged this when on 14 June he led a much stronger band of rebels from this same valley and destroyed Hugo's house and property and that of many loyalists in the surrounding countryside.
On 18 June, rebels raided Roundwood village and the following day skirmished with a strong patrol of Reay Highlanders on the slopes of Sleamaine/Ballinrush Hill.
On the night of 25 June, a force of 1,000 Dublin city yeomen and troops quietly entered the upper valley and spent an uneasy night near Lugglaw Lodge, only to be recalled next day by Lord Lieutenant Cornwallis, who realised that the highly mobile rebel army had left the area and had marched across the mountains to the Whelp Rock camp in west Wicklow.
From their lofty perch above Lough Tay (595m) our hardy Bogtrotters headed down and across the Cloghoge Brook, then struggling through deep heather, crossed over into the magnificent Inchavore river valley. From here we headed back to base, followed a well used track which passes through where the Cloghoge village once stood.