13 May 2004 Edition
New probe into GAA man's killing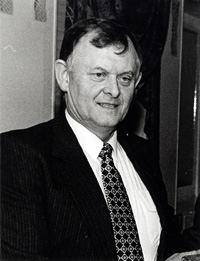 There is to be a new probe into the 1997 murder of GAA official Seán Brown. A unionist paramilitary gang abducted the 61-year-old County Derry official as he was locking premises of the Bellaghy GAA Club. His body was later discovered beside his burnt out car in Randalstown.
Seán Brown's family announced last week that they have come to an agreement with the PSNI. Although that force will conduct the new probe, an outside force will be involved and the investigation will be overseen by a senior detective from Britain in consultation with the family and their representatives.
Earlier this year, Ombudsman Nuala O'Loan published a damning report detailing a series of errors in the original investigation and recommending an independent review of the killing. Despite the recommendation and the wishes of the victim's family, the PSNI announced a further probe.
In a statement to the press, Damien Brown, son of the dead man, said that in light of the very disturbing information regarding the original investigation and the mysterious disappearance of vital documents, the family had called for an outside police force to carry out any new investigation. But after their request had been denied, the family decided to press ahead with "our very limited options".
The family successfully secured a number of safeguards. No officer involved in the new probe will have had involvement in the original investigation and no officer who has been a member of the Special Branch of C3 will be involved. An advisory team of solicitors and a representative from the Pat Finucane centre will also support the family.
"The trauma suffered by our family following the murder of our father in 1997 was compounded by the subsequent RUC non-investigation," said Damien. "We are determined not to allow this to happen again."
Mid-Ulster MP Martin McGuinness paid tribute to the Brown family.
He said the original investigation had been about protecting the killers and that that has remained the position of a number of individuals within the PSNI since.
"Sinn Féin has raised the case of Seán Brown with the two governments and with the US Administration," he said. "It is crucial that the injustice already done to this family is not compounded further by any more obstacles being placed in the way of the truth."