13 May 2004 Edition
Murdered by the British Army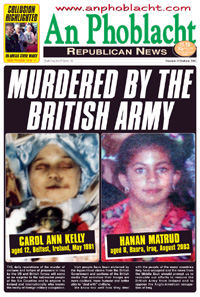 Carol Ann Kelly - aged 12, Belfast, Ireland, May 1981
Hanan Matrud - aged 8, Basra, Iraq, August 2003
The daily revelations of the murder of civilians and torture of prisoners in Iraq by the US and British forces will come as no surprise to the nationalist people of the Six Counties and to anyone in Ireland and internationally who knows the reality of foreign military occupation.
Irish people have been sickened by the hypocritical claims from the British Government and sections of the British media that somehow their troops are more civilised, more humane and better able to "deal with" civilians.
We know too well how they deal with the people of the many countries they have occupied and the news from the Middle East should prompt us to redouble our efforts to remove the British Army from Ireland and to oppose the Anglo-American occupation of Iraq.