13 May 2004 Edition
Bank Robbery - Ó Caoláin highlights AIB doublespeak
BY ROBBIE SMYTH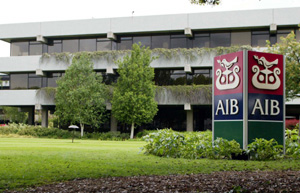 "Pure mistake and human error." Write these words down. This was how AIB explained away eight years of overcharging foreign exchange clients that culminated in at least €25 million being fraudulently taken from the bank's customers.
This week, both the Irish Financial Services Regulatory Authority (IFSRA) and AIB are conducting inquiries into how this "error" happened but neither inquiry will lead to any serious sanction, such as a criminal prosecution or even the prospect of a day's imprisonment, even though AIB realised that the overcharging was happening two years ago.
It must be a new law of finance, rob a bank go to jail, let a bank rob you, accept an apology years later, but only if you can prove you were a victim. AIB never kept any details, except the amount of money transacted and the date.
In fact, the events of the last two weeks raise serious questions about how banks operate in terms of corporate governance and protecting their customers' interests. It seems that in this case, cover up and move on may have been AIB's first instinct. This from a bank that only two years ago had to explain how one US financial trader ran up €691 million losses in a trading fraud in its Allfirst US subsidiary.
Then an inquiry found "incompetence and lack of supervision at a gross level" within AIB. It seems that not a lot has changed at the bank.
For the fifth time in the last six years, a major fraud perpetrated by the Irish banking community has been uncovered, but as usual there is no chance of prosecution or imprisonment for any of the wrongdoers.
First we had the NIB scandal of 'interest loading', a nice word for stealing from your customers, then there was the multi-million euro DIRT tax fraud, which involved every major financial institution in the state and so far has racked up €714 million in tax payments and penalties paid by the banks and thousands of customers.
Next was NIB again, with their €48 million Clerical Medical tax fraud, where the bank sold an illegal investment product to over 400 customers encouraging them to participate in tax fraud.
Then there was the finding of the McCracken Tribunal that Ansbacher Cayman had run an unlicensed illegal bank through the head office of Cement Roadstone Holdings, one of Ireland's largest companies. The tax fraud associated with this bank has meant €49.5 million in payments to the Revenue Commissioners.
In the last year it has been thousands of offshore bank accounts, allowing wealthy Irish citizens to engage in tax fraud, that have been exposed, with again millions of euros in unpaid tax discovered by the Revenue Commissioners.
So here we are again back to bank robbery only uncovered because of anonymous calls to the IFSRA and RTÉ.
The €25 million amounts to about one week's profits for the company. So the last unanswered question is how many other weeks' profits at AIB were illicitly gained?
AIB's catalogue of failure
1995 to 1996
This week's banking scandal began in 1995, when AIB decided to charge a 1% levy on all foreign exchange transactions involving transactions of more than €500.
In 1996, responsibility for monitoring these charges passed from the Central Bank to the Office of the Director of Consumer Affairs (ODCA). It was here that AIB submitted documentation asking for 0.5% levy on foreign exchange transactions. Authorisation was given for the 0.5% levy but AIB were actually charging 1%.
October 2002
In October 2002, AIB's Strategic Development Division discovered the overcharging but decided the issue was an "administrative one". AIB now claim that senior management were never informed of the overcharging discovery.
March 2004
In 2003, responsibility for bank charges passed to the IFSRA. Somewhere in late March or early April AIB's Strategic Development Division began work on a new submission to the ODCA for implementing a new range of charges. They then realised that higher charges than legally authorised were being levied on customers. It seems that despite discovering the overcharging for a second time, AIB did not act to acknowledge the fraud.
Mid-April 2004
What AIB did do in mid-April was to dismantle and reprogramme the tellers' currency converter machines so they would impose the authorised charge, without informing staff as to why.
Late April 2004
In late April, an anonymous whistleblower phoned the IFSRA informing them of the overcharging. On 30 April the IFSRA met with AIB's compliance officers, who said they were not aware of the overcharging issue.
5 May
It was only on 5 May that AIB's senior management claim they were first informed of the overcharging, despite knowledge of it within the bank's management structures for nearly two years.
11 May
AIB place €25 million in a Central Bank account as a "good faith deposit".
Ó Caoláin calls for AIB to appear before Finance Committee
Sinn Féin Dáil Finance spokesperson, Caoimhghín Ó Caoláin, a member of the Oireachtas Finance and Public Service Committee, has written to the Chairperson, Seán Fleming TD, to request that representatives of Allied Irish Banks be recalled before the Committee to account for their overcharging of foreign exchange customers. Last July, the Committee heard submissions from the banks, including AIB, and is due to conclude a report on charging practices.
Ó Caoláin said: "In July last year, John Hickey, General Manager of Retail Banking with AIB, came before the Oireachtas Joint Committee on Finance and the Public Service and told us that AIB's charging policy 'reflects our responsibility to deliver transparent, reliable, accessible services that offer our customers choice, convenience and value for money'."
There, is according to Ó Caoláin, an "inconsistency between this statement and the overcharging of foreign exchange customers for the past eight years". He wants Hickey to explain to the Committee how this practice could have been known within AIB since 2002 but allegedly only became known to senior management — including Hickey — this week.
The Sinn Féin group leader in Leinster House also said that, "in 2002, AIB recorded a profit of €1.375 billion, the highest ever recorded by an Irish company.
"All customers, not only those directly affected by this type of overcharging, are entitled to know the full facts. AIB has objected to the paltry €300 million bank levy over three years imposed across all the commercial banks by the Minister for Finance. It has benefited massively from the Government's reduction in Corporation Tax from 16% to 12.5%.
"It is essential that AIB return to the Oireachtas Finance Committee to make itself accountable before we complete our report on banking charges."