13 May 2004 Edition
The Road to Europe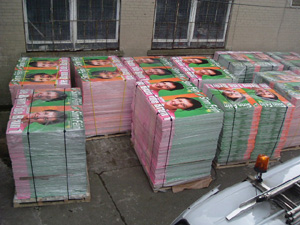 Last Friday I awoke at a ludicrous hour for a day trip to Belfast and Donegal. I was accompanying that neverending bundle of energy that is Sinn Féin Director of Publicity Dawn Doyle to see Six-County EU election candidate Bairbre de Brún film her piece for the party's election broadcast.
We picked up Bairbre at the Sinn Féin office in Belfast. It was just after 9am, but the place was buzzing. For some reason, I hadn't expected there to be as much of an election atmosphere in the Six Counties. I suppose that stemmed from the fact that as well as the European Union elections, we're having local elections in the South and a referendum. But I was wrong. The election fever in Belfast is palpable.
Leaving the office, our little group headed down to George's Market, where the crew wanted to film Bairbre talking to the locals. At every stall, she mingled with sellers and customers, inquiring after family members and neighbours and reminding people to come out and vote in June. The camera crew drew a wealth of attention.
I heard one woman tell a young boy that Bairbre was famous and was going to be on the telly, so he should go over and stand beside her. A not so friendly member of the public made a derogatory remark about the Shinners doing anything for a free meal, as Bairbre was given an apple by one of the stall owners. But most people were friendly. They knew Bairbre, they knew about the election, and they were promising her their votes.
From the busy market, our little group moved down to the Waterfront. Bairbre had to memorise her lines in Irish and English, then walk in front of the camera while saying them. The footage in the market had been fairly straightforward, but this was much more complicated. There was take after take as we had to contend with all manner of external noises. For about a half an hour a Brit helicopter hovered overhead. Just when they'd moved on, a builder on the site beside us started drilling. After pleading with him to give us ten minutes, we had to wait while two speedboats shot down the river.
Between all that and the passing trains, the whole episode was a nightmare. We could only laugh about it.
Eventually we got the footage we wanted, and it was time to move on to Draperstown in South Derry. I went in the car with Bairbre to talk about the campaign. I wanted to get my head around the sort of hours Bairbre was working. It was only early afternoon and I felt like I'd worked three days, not to mention the fact that I hadn't had anything to eat since a bowl of Special K at 5.30am.
How long were her days, I wondered, and what did they involve? "Well a lot of travelling," she told me with just a hint of humour, as we set out on our hour-long drive. "There are a number of different events going on at the moment. We're travelling to meet community organisations, farmers, local people, right across the Six Counties. One day we might be in a community hall, a market or a local fair. A lot of organisations are also taking this opportunity to invite all the European Parliament candidates to come and talk with them and to come and debate with each other, on issues of concern."
I asked her what time she finished in the evenings.
"Well, I have to keep my finishing time in the evening flexible," she replied (and I made a mental note never, ever to run for election). "But we're expecting the weeks ahead to get even more hectic, so we're trying to pace ourselves." More hectic, I thought. What, would they have to clone her to make sure all the work got done? I asked her how she managed it all.
"Well, I have a great team working with me," she replied honestly. "I have a strategy group, which involves a canvass team, people working in transport, a team dealing with PR and links to the media, and of course creating and distributing election material.
"But there are also a lot of people working in their own local areas, which is the real strength for Sinn Féin because we are so strong on the ground."
She might have a good team, but surely she was feeling the strain of running for election and being an active MLA? I needed some sign that she was in fact human and occasionally slept like the rest of us.
"Well, I couldn't do it without the team I have, but it's not even just those two roles," she informed me. "We are in the midst of very intensive efforts to try and get the peace process back on track and see the implementation of the Good Friday Agreement, so there is a lot to be balanced at present. Some of the work I do on the mobile phone myself, while travelling to one area or another. Balancing it all can be quite demanding. But necessary."
Our destination in Draperstown was a sheep market, that turned out to be a cattle market, and I had my second new experience of the day. I'd never seen a cow so close before (they generally don't wander around working-class areas in Dublin). Unfortunately I was so hungry at this stage that I just wanted to eat them, so I didn't appreciate the whole nature up close experience at all.
Our day with Bairbre had ended. We had yet to drive to Donegal to film Northwestern candidate Pearse Doherty for his piece, so sadly there was no rest for me yet. Bairbre too had many more engagements ahead of her.
Some 20 hours after I'd awoken, we arrived back in Dublin. What greeted us there made me smile. The Dublin Sinn Féin members had been out since 12am, the exact minute it became legal to have EU posters up, putting up Mary Lou McDonald's. Not for the first time that day I thought: "This party never stops."
I suspect, with all the hours we're putting in and the amazing candidates we have, these elections could be our best to date.