29 April 2004 Edition
Inquests into Dublin & Monaghan bombings reopen
BY JOANNE CORCORAN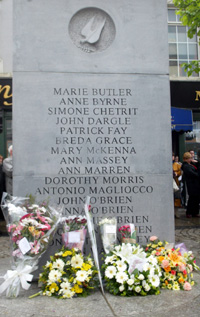 The inquests into the victims of the 1974 Dublin and Monaghan bombings reopened last Tuesday, 27 April, after a lapse of 30 years. Margaret Urwin of the Justice for the Forgotten group told An Phoblacht that the inquests are expected to continue until 7 May.
"The Coroner specified that he wanted to hear from all the bereaved families first," Margaret said. "So yesterday and today (Tuesday and Wednesday), all the families are up to give evidence about their loved ones' deaths."
As we went to print yesterday, five of the families from Monaghan had arrived in Dublin to give evidence, accompanied by Sinn Féin chairperson of Monaghan County Council, Seán Conlon.
The inquests are taking place at the Dublin Arbitration Centre, Distillery Building, Church Street. As well as the victims' families, it is expected that evidence will be presented from survivors, eyewitnesses, Garda witnesses, and technical and forensic witnesses.
The Coroner stated at the hearing on 16 April that it would be necessary to have a full and thorough inquiry into the circumstances of the deaths and to consider the evidence, but not allegations or theories.
An Oireachtas Committee investigation into the Barron Report, which examined the bombings, concluded recently. The Committee recommended an international investigation into the tragedies, along the lines of Judge Peter Cory's report into collusion in the Six and 26 Counties. The Committee recommended that public inquiries should take place in either the Six Counties or Britain, but fell short of recommending an inquiry in the 26 Counties, where the bombings actually took place.