25 March 2004 Edition
Register Now!
BY ÁINE Ní BHRIAIN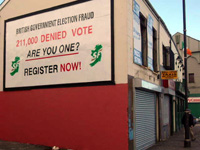 Sinn Féin is calling on Six-County voters to ensure they have re-registered with the Electoral Office before the upcoming 8 April deadline for European elections.
Under the British Government's controversial new legislation — the Electoral Fraud Act (NI) 2002 — voters must re-register every single year in order to be listed on the electoral register and be able to claim their right to vote coming polling day.
That means that even if you were listed on the electoral register during last year's Assembly elections, you must register again now.
"A number of years ago the British and Irish Governments were saying that the Good Friday Agreement created a level playing field for all political aspirations to be advanced in a peaceful and non-violent way," says Sinn Féin's Jim Gibney. "But Sinn Féin has pointed out that in the first test of that commitment by the British Government — on the very question of people's right to vote — that government has failed.
"The democratic objective should be to facilitate the right to vote, to enable the maximum number of people to vote, and to remove any impediments to the exercise of this fundamental right."
At least 211,000 voters were excluded from last year's Electoral Register. Additionally, the Electoral Office has admitted that a further 30,000 people were also denied the right to vote simply because they could not provide an 'acceptable' form of photographic identification on election day. Taken together this represents 20% of the entire electorate.
"The right to vote is a basic democratic right," says Gibney, "and the denial of this right and the related issue of political discrimination cannot be allowed to continue. If it is, the electoral register will continue to get smaller and smaller every year that passes.
"First-time voters, people in disadvantaged areas, the elderly and people with disabilities were all particularly affected by the changes - so obviously this is also an issue of human rights and equality, and that should be of concern to all political parties."
It only takes a few minutes to ring your local Electoral Office and ensure that your name is listed on this year's register, but you must do so before the 8 April deadline or run the risk of losing your vote.
"The right to vote was hard won," says Gibney, "People died and went to jail to achieve it. Governments should not regard that lightly. Sinn Féin certainly doesn't and neither should anybody in society who has the responsibility for improving the quality of people's lives."