18 March 2004 Edition
Presbyterian Minister accused in race row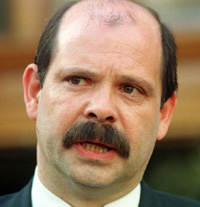 A Presbyterian minister has been condemned by the Chinese Welfare Association after he made offensive comments about ethnic communities in Belfast's Donegall Pass.
The remarks came after racist leaflets were distributed in the area calling for members of the Chinese community to be expelled from the community. The leaflets were handed out during a public meeting and one was later found planted in the schoolbag of a Chinese child at a Belfast primary school.
Entitled Yellow Invasion, the unsigned handbills claim that Protestants are becoming a "minority" in the Donegall Pass area and accuse ethnic families of turning the neighbourhood into "Chinatown".
The pamphlets allege that Protestants are being forced out of the area and encourage local residents to "fight back", and claimed that the number of Chinese people in the area was "eroding the community's Britishness"
"Ordinary working class people see their streets filling up with foreigners and are afraid of that," explained Reverend Ian Harte. He went on to say that, although he did not defend the racist pamphlets, the number of Chinese people living and working in the area was "a problem".
"It's all very well for middle class people to go on about how great multi-culturalism is, but they don't have to live with it," said Rev. Harte. "People see what's happening in places like Bradford and Leicester, where areas are 98% Pakistani, and they don't want that to happen here.
"I don't defend this leaflet the slightest bit, but I think there needs to be a compassionate look at the problem."
At its height, the Chinese population in Donegall Pass numbered only 60 families, and in spite of the inflammatory allegation of a Chinese "invasion", it has been revealed that more than two-thirds of that population has since been forced from the area.
"There are 23 Chinese families living in a total of 800 households in the Donegall Pass area," says Anna Lo of the Chinese Welfare Association. "That is certainly not an invasion."
Lo strongly criticised Rev Harte's remarks, saying: "For someone like him, with influence in the community, to make these comments is irresponsible. These are not words of compassion."
Meanwhile it has emerged that the UVF were behind the production and distribution of the racist leaflets. Speaking on Friday, 12 March, David Ervine of the PUP confirmed that the UVF was behind the racist literature and was responsible for its distribution throughout the unionist Village area.
Ervine said that while he did not know the extent to which the organisation was involved in orchestrating the ongoing campaign of racial intimidation - or if the activities were authorised by the UVF leadership - he believed the UVF were the group responsible.
"I know the main leadership of the UVF are not racist," said Ervine, "but it is clear that there are people within the UVF that are."