18 March 2004 Edition
We have to get back to conflict resolution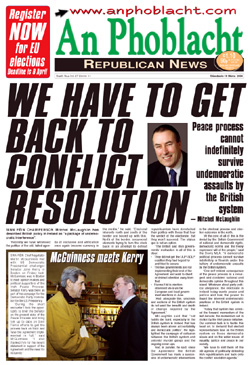 Peace process cannot indefinitely survive undemocratic assaults by the British system — Mitchel McLaughlin
Sinn Féin Chairperson Mitchel McLaughlin has described British policy in Ireland as "a package of undemocratic interference".
"Recently we have witnessed the politics of the old, failed agenda of exclusion and vilification once again become currency in the media," he said. "Electoral interests North and South of the border are bound up with this. North of the border, securocrat elements trying to turn the clock back in an attempt to defeat republicanism have dovetailed their politics with those that fear the verdict of the electorate. But they won't succeed. The status quo is not an option.
"The British and Irish Governments' motivation in all of this is clear.
• They did not get the UUP-SDLP coalition they had hoped for and tried to secure.
• The two governments are not implementing their end of the Agreement and want to divert or distract attention away from that.
• Fianna Fáil is election-obsessed vis-à-vis the European and local government elections in June.
"And, alongside this, unionists and sections of the British system do not want the breadth and depth of change required by the Agreement."
McLaughlin said that "old habits die hard, especially in the British system in Ireland that has always been above accountability and democratic politics". He highlighted the campaign of collusion between the British system and unionist murder gangs and the ongoing cover-ups.
And, in parallel, he said, since the Agreement the British Government has made a succession of undemocratic interventions in the electoral process and election outcomes in the North.
"At the core of all of this is the denial by the British Government of national and democratic rights, democratic norms and the freely expressed will of the people," said the Derry MLA. "A democratic political process cannot survive indefinitely or flourish under this battery of undemocratic assaults by the British system.
"One self-evident consequence of the Peace Process is a resurgent and confident national and democratic opinion throughout this island. Whatever about party political allegiance, the electorate in Ireland today wants peace and justice and has the power to thwart the inherent undemocratic practices of the British system in Ireland.
"Today that system has arrested the forward momentum of the last decade; the momentum set in motion by the Irish peace initiative. Our common task is to tackle this head on, to demand that elected representatives take on the British system on these democratic issues and on the wider issues of equality, justice and peace in our society.
"We have to shift them off the old agenda of politically defeating Irish republicanism and back onto the conflict resolution agenda."