11 March 2004 Edition
Profits before people at Irish Continental Ferries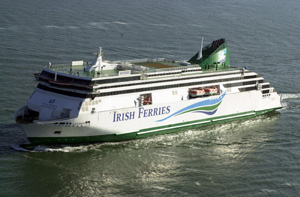 In recent times, the numerous conflicts between various companies, their workers and trade unions have led to questioning of just how much value or respect management in these areas actually place on their employees. Profit before staff is the essential equation.
The conflict between Irish Ferries workers and their management displays this attitude perfectly. The Irish Continental Group, which run Irish Ferries, operates passenger ferries and freight vessels between Ireland and Wales, and Ireland and Continental Europe. The ICG operates the Dublin Ferryport Terminal, which is currently being expanded, and also owns two ships on charter to P&O.
The latest issuing of the company's accounts stated: "Irish Continental's competitive position is strong. Barriers to entry are high and growth in Irish-UK trade flows and tourism provides the macro-economic opportunity. Tourist and freight volumes remain robust but rates remain competitive. Two ships on charter to P&O provide an added medium-term revenue stream." The statement later describes the company as having a "strong cash-flow". Last year was described as a "record-breaking year for freight" for the company. With all this good business jargon, you would be forgiven for thinking that Irish Ferries was in a position to treat its employees well and continue with current staffing conditions. Well, that's where you'd be wrong. Irish Ferries has recently been noted as the only company to benchmark down rather than up.
Last June, the company issued a statement entitled "Proposals to Restore Competitiveness". One would wonder why a company enjoying such "competitive" rates would need to issue a document on how to restore competitiveness in the first place. This proposal aimed to reduce costs of €3.4 million that the company allegedly suffers against its nearest competitor, Stena Line. Conveniently, when Irish Ferries management were in talks with trade union representatives from the Seamen's Union of Ireland the management said that they did not have copies of Stena Line's accounts to back up their claim that their non-wage/salary seafaring costs were uncompetitive. Even the figure of €3.4 million seems rather odd. The company's chief executive, Eamon Rothwell, last year achieved the accolade of being the highest earner of any chief executive of the country by receiving a bonus of €420,000 on top of his normal earnings. This is the same man who receives 2.5% of all the company's earnings. Maybe if he took a small pay cut it would achieve some of the €3.4m that the top dogs of Irish Ferries allege they need to become more "competitive".
The original proposals contained recommendations that all seafaring staff would adopt shore contracts. This means that not only would staff working on the ships have to continue doing their own work but also do the work of those ashore, such as taking bookings, etc. And what does this mean? Even more work for the same money. Or even less money in some cases; some temporary members of staff were originally intended to take a pay-cut of 15% when the rates of pay were revised. Sick pay would only be made available to future permanent employees on the commencement of their second year of permanency. These are the same workers who already work 13.5-hour shifts, for seven days in a row away from their homes and families.
These proposals caused outrage among the workers of Irish Ferries and the members of the Seamen's Union of Ireland. The matter was referred to the Labour Court and pending that referral, the company said on 10 February that it had to implement some cost reductions involving "staffing-reductions", likely to affect more than 200 staff members. In reality, this actually affected 450 workers who were let go at the end of February, which included a few members of Ógra Shinn Féin.
The coverage the dispute received among the broadcast media and the national daily newspapers was what can only be described as extremely biased. The Seaman's Union was continually criticised for not going into talks with SIPTU, yet it had actually said that it would go into parallel talks. The fact that Irish Ferries was making cutbacks left, right and centre received no coverage at all. Once again in Ireland, big business was portrayed as being held to ransom by workers and trade unions while in reality, this couldn't have been further from the truth.
One night in February, a group of 450 workers on the MV Isle of Inishmore, the MV Normandy and the Swift finished their shifts in Dublin, Pembroke and Birkenhead and were told that their services were no longer required and that they would finish work with the company there and then. These 450 workers cleared out their cabins and sailed home on a Stena Line ship. Instead of becoming more "competitive", Irish Ferries paid Stena Line for 450 of their staff members to travel across the Irish Sea.
While the dispute continues, the general lack of media coverage poses the question: if Irish Ferries can benchmark down, temporarily lay off 450 employees with no notice, pay their chief executive a €420,000 bonus and get relatively little adverse media coverage for it, then just what can the business giants of Ireland get away with?