11 March 2004 Edition
Thousands honour Vol Keith Rogers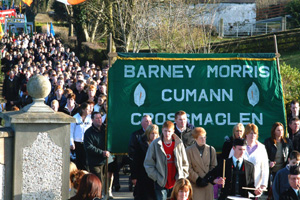 A huge crowd attended the commemoration march in Sheelagh, County Louth, on Sunday last, in memory of Volunteer Keith Rogers, who was murdered by criminals on 12 March 2003. This first commemorative march was led by a colour party and bands from Cullyhanna, Andersonstown, Crossmaglen, Kilkeel and Strabane.
At the Hunger Strike Memorial outside Sheelagh Chapel, proceedings were chaired by Louth County Councillor Tomás Sharkey, who welcomed the large crowd.
Memorials were unveiled to Keith and Óglaigh na hÉireann, Árd Mhacha Theas. A new banner was unfurled in memory of Keith and of Volunteer Eugene Martin, marking the formation of a new cumann in North Louth, named after the two fallen Volunteers.
Brian Keenan spoke briefly before the main speaker, Martin Ferris TD, gave his oration.
"Keith was a young man of just 24 years of age with a full life and a lot to look forward to," he said. "In dying, he left behind a grieving family and today we again extend our sympathy to his mother Theresa, his father Martin, to his sister Michelle, her children, and to all his family, friends and comrades.
"The most tragic aspect of Keith's death was the manner in which it took place. All IRA Volunteers are well aware of the risk they take when they join the Army. The Roll of Honour is a testament to those dangers in the names of those Volunteers who met their deaths at the hands of the Crown forces and of loyalists.
"Keith would have been well aware of that risk and was prepared to face it if circumstances, regarding the political situation, was to change. Those responsible for killing Keith were not the Brits nor loyalists, but people who have the audacity to claim that they are republicans.
"They are not republicans. They may try to justify their cowardly act in whatever way they wish. The fact is that they murdered a soldier of the Republic. And that makes them no different from the Brits or the loyalists or other renegades in the past."
The huge number of wreaths laid, from counties Monaghan, Armagh, Down and Louth, spoke volumes about the esteem in which Keith Rogers was held.