4 March 2004 Edition
Local government gets a lashing
BY JOANNE CORCORAN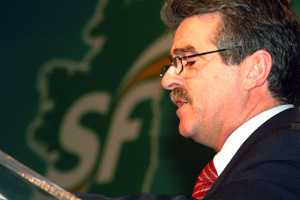 Corruption and the absence of any real power were the two issues that dominated the debate on Local Government on Friday night. With Sinn Féin on the verge of fighting local elections in the South, the debate proved to be one of the more passionate of the weekend. Constant reference was made to the growth the party is going to experience in the local government sector come June, and delegates expressed a strong desire to see change come about on councils throughout the island, when that happens.
Louth TD Arthur Morgan was the first speaker, and he told the hall that if the party is to be an effective voice for Irish people, it has to challenge the hegemony in local authorities.
"Other opposition parties might be happy to let local government be run by unelected local authority officials, but Sinn Féin is not," Morgan said. "Local government does not serve the citizens of this state the way it should."
Morgan questioned why land speculators and developers are allowed to get away without paying for the rezoning and planning development benefits they receive from councils.
"There is no proper system of funding in place for local government, so they are reliant from government handouts to get by," he continued. "Wouldn't it be an idea to have all these people who are getting rich from council deals put some money back into local government?"
Dublin Councillor Mark Daly spoke about the disappointment he felt upon entering local government for the first time. "Five years ago, when I first spoke at an Ard Fheis, I had great ideas about what local government could do," he said. "I quickly realised that if its planning permission or land rezoning that you're after — the council is a great place to be. But for everything else you have to go begging from the band of merry men who run local government in Ireland today."
Daithí Doolan, also from Dublin, reminded delegates of the Ard Fheis that was held ten years ago in Killinardan, Tallaght. "We have come a long way since then," he said, "but we have not forgotten that it's communities like Tallaght that we look for our support from, and it's communities like Tallaght that we are here to serve.
"Minister Martin Cullen has nothing but disdain for local democracy. He has created a system where all the power is lying in the hands of city managers and deputies — faceless bureaucrats that we have to wrestle it away from."
Doolan added that he envisaged a great surge for Sinn Féin in the locals and called on delegates to "be ready to liberate the corridors of power across the state".
Councillor Anne O'Leary from Bantry gave the debate a flavour of the situation of local government in Cork. She spoke about local authority housing in the county going to rot because of neglect by the council.
Daniel Callanan called on delegates to not get bogged down with the negative side of local government, but to realise the potential for change that Sinn Féin will have if it does well in June.
"Why do you think that Michael Ring and his cronies were so eager to find against the dual mandate bill, preventing them from being TDs and councillors?" he asked the hall.
"Because councils do hold a lot of power in local communities, even if it is being slowly eroded, and we can use that power to make change happen. We can fight for democracy to be reinstated at a local level."
Monaghan Councillor Brian McKenna finished up the debate by addressing the issue of development charges. "Having underfunded local government for decades, central government is now using development charges as a form of taxation which takes no account of ability to pay," McKenna said.
"Throughout this State, new house builders and buyers are receiving demands from local authorities for massive development charges. Under the Planning and Development Act these charges were intended not for individual first-time home buyers or for people building their own homes. They were intended for housing developers and industrial developers so that they would pay their fair share for local authority services.
"Instead, what we have now are local authorities imposing these charges on individuals and families and adding yet another crippling burden to the already massive cost of housing in this State, thanks to the market-driven so-called housing policy of Fianna Fáil and the Progressive Democrats."
McKenna added that this is the same government that brought in a Bill to require developers to devote 20% of housing developments to social and affordable housing, "and then after a massive lobby from their developer friends they changed the law to allow them to duck out of their obligations".
All motions in this section were passed.