4 March 2004 Edition
Finucane judicial review adjourned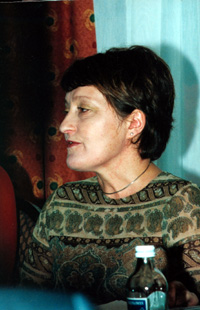 The Finucane family have described as "outrageous" the decision to allow the British MoD and PSNI access to the Cory reports while denying the families of the victims.
Geraldine Finucane was commenting after the judicial review sought by the family to compel publication of the Cory reports by the British Government was adjourned for three weeks at the behest of the British legal team.
Outside Belfast High Court the murdered solicitor's widow said it was "an absolute disgrace that the MoD and PSNI have seen the report into my husband's killing and I have not". She pointed out that the MoD and PSNI, formerly the RUC, are the same state agencies implicated in the collusion controversy.
"These people are being accused of many things and I think it is outrageous they have seen the report before me."
In October last year, retired Canadian Judge Peter Cory delivered four reports to the British Government and two to the 26-County Government concerning six specific murder cases in which state collusion had been alleged.
The 26-County government met its commitment to publish the reports in full before Christmas but to date the British Government has refused, citing legal and security matters.
Frustrated by the Britishrefusal to adhere to their agreement, Judge Cory took the unprecedented step of contacting the families of the victims personally and revealing that he had recommended public inquiries in all four cases. Following the judge's intervention, the Finucane family sought a judicial review challenging the British Government's refusal to release the reports. The family was granted the right to seek a judicial review but the hearing was immediately adjourned for three weeks at the behest of British Government lawyers.
In court, the barrister acting on behalf of the British Government, Declan Morgan said it was expected that the government would publish the Cory reports during the adjournment or alternatively publish a "framework" for their publication.
Opposing the adjournment, the family's barrister, Seamus Tracey, said there was a widespread belief that the British Government was attempting to delay publication for its own cynical reasons.
Tracey accused the British of attempting to water down the contents of the Cory reports. "It looks as if there is an attempt going on in the background to tinker with the contents of this report. The families fear the government is sexing down the document," said Tracey.
A barrister acting on behalf of Rosemary Nelson's family also expressed disquiet at the continued delay.
Adjourning the case, presiding Judge Gillen said he had to balance the families' desire to have the reports published against any potential risk to those named in Cory's reports.