19 February 2004 Edition
Finucanes will meet Stevens in London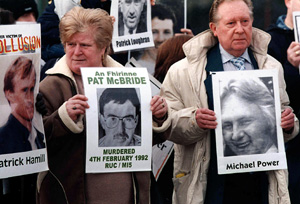 The family of assasinated solicitor Pat Finucane are to meet London Metropoliton Police Chief John Stevens on 23 February in London.
The meeting comes 15 years after the solicitor was killed by the UDA.
The Finucane family said that they want to meet Stevens to discuss their concerns about his continuing investigation and possible prosecutions, which they fear may be used by the British Government as an excuse to prevent the establishment of an inquiry into the killing such as that recommended by Canadian Judge Peter Cory.
The family have insisted that Stevens' three investigations over the last 15 years have been used by the British authorities to thwart the establishment of an independent judicial inquiry into the solicitor's killing.
Michael Finucane said that his family are very concerned about the effect the Stevens investigation will have on the public inquiry that his family have tirelessly campaigned for and that Judge Cory recommended.
"As more information has come to light it has made us more determined and we are not planning to give up," he said. "The level to which we have had to push the British Government is scandalous. The initiative has always came from our family and we have had to campaign across the world and take the case to court on numerous occasions."
Finucane added that Judge Cory has recommended an independent inquiry, but the British Government has continued to ignore that recommendation.
Speaking from Australia, where he was on a weeklong tour, Sinn Féin president Gerry Adams accused the British Government of "hiding behind the Cory Report for three years and now hiding behind the consequences of it.
"Pat Finucane was murdered as a result of Britain's very deliberate policy of state sanctioned murder. His family have refused to accept the lies and the barriers constructed by the British state in the years since his murder," said Adams.
"The demand for a full public, judicial inquiry into the killing of Pat Finucane is undeniable. The British Government hid behind the work of Judge Cory for three years in resisting this demand and now they are hiding behind the consequences of it. The British Government need to publish the Cory Report and act upon its recommendations.
"Tony Blair cannot continue to stall. He cannot continue to protect those within the British system who developed the policy of collusion and who are still actively engaged in cover-up and concealment."