12 February 2004 Edition
Incinerator debate heats up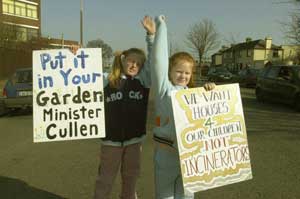 Incinerators — burning beasts that blight the landscape and pollute the air for over 40 kilometres in every direction. Can you imagine what it would be like to have one of them in your back garden? Well, that is what residents in the Ringsend area of Dublin are facing if Dublin City Council gets its way.
Incinerators have become the waste management topic to debate in recent times. International studies have shown that the ash they produce can end up polluting surrounding water supplies and can have a knock-on effect on animal produce, such as milk. All over the world, countries have been slowly phasing out incineration as a method of waste disposal. However, two countries, Ireland and Britain, are currently racing headfirst into incineration hell.
Ten years ago, Ringsend fought successfully against the building of an incinerator in the area by a commercial company, but now local authorities are planning to foist one on the beleaguered residents. Other incinerators are planned around Ireland, north, south, east and west, but none will match the scale of the one planned for Ringsend.
However, Dublin City Council had not reckoned on Daithí Doolan, Sinn Féin's local election candidate in Ringsend, when they made their plans for this particular incinerator. For the last few years, Doolan has been leading residents in their battle against the massive project and that battle is beginning to heat up.
Along with a protest on Friday 13 February at the East Link Bridge just outside the city centre, Doolan will be taking part in a press conference next Tuesday, with MLA Willie Clarke, Arthur Morgan TD, Dublin EU Candidate Mary Lou McDonald and Dublin local election candidate Sinéad Pembroke. The conference will be used to launch Sinn Féin's new waste management charter, which reiterates the party's position of reduce, reuse and recycle, and rejects completely any forms of incineration as a means of disposal.
Speaking to An Phoblacht, Doolan says the waste charter is an easy way to help Ireland deal with its ever-growing rubbish problem.
"We want every party to support this policy, as well as NGOs, community groups, and all other relevant organisations," Doolan says. "Nearly all the individual candidates in the area of Ringsend are opposed to the incinerator, but unfortunately they and their parties approved one in a 1998 Dublin City Council meeting. Sinn Féin stood against the incinerator then and is going to continue to do so now."
Doolan says that Ringsend residents are not worrying unnecessarily, given that this incinerator will be the biggest in the country.
"The incinerator is going be capable of burning more waste than the whole of Dublin produces," Doolan adds. "That poses the problem of where the commercial company that the council are going to get to run it will get enough waste to make the incinerator economically viable.
"Are they going to be shipping in waste from other countries? Will waste be sent up from surrounding counties, and what is that going to do for the existing traffic crisis in Dublin? Or will they be encouraging people to produce more waste, because there won't be a problem of where it's going to go?"
Doolan adds that the incinerator will, of course, be paid for by the taxpayer before being handed over to be run for profit.
"Just think how much the consumer is going to end up paying for waste," he says. "First, they're going to pay for the packaging in the shops that manufacturers insist on putting on their products.
"Then they are going to pay for their waste to be taken away. Then they'll pay for their waste to be burned, and in the end they'll end up paying for that with their health. It's madness.
"Sinn Féin's policy of reduce, reuse and recycle cuts out all the unnecessary cost involved for the consumer and deals with the problem that disposing of waste causes for the environment."
Doolan has appealed for people to take part in the protest being held on Friday, even if they don't think the incinerator will affect them.
"The government has been very clever about this so far. They want to put the incinerator in an area where they think they won't get much of a fight, and Ringsend is perfect for them because it is already full of heavy industry plants.
"But this incinerator will affect every single part of Dublin, and that has been proved in other cities around the world. Dublin people need to get out now and tell the government where they can stick their incinerator."
People who wish to participate in Friday's protest should contact Daithí on 086 8534666.