12 February 2004 Edition
Northern News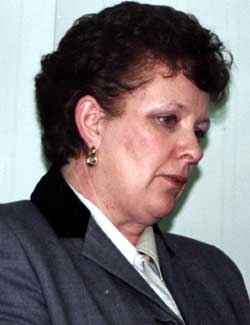 Ombudsman excuses PSNI
Sinn Féin Upper Bann Assembly member John O'Dowd has criticised Police Ombudsman Nuala O'Loan for excusing the PSNI for turning up almost four hours after being contacted on 9 January about a suspect bomb outside a bar at Brownlow Terrace in Lurgan.
The Ombudsman's office was asked by O'Dowd to investigate why it took the PSNI so long to arrive, even though the scene was only 300 yards from the PSNI barracks. O'Dowd eventually removed the device himself.
The Ombudsman's report said the PSNI were not at fault because the lack of British Army support meant they were unable to attend. It concluded that the PSNI decision not to enter the area without British Army personnel was PSNI policy and therefore could not be investigated by the Ombudsman.
Responding, O'Dowd said O'Loan was excusing the PSNI. "I find it totally unbelievable the PSNI could not get British Army support, because Mahon Road Barracks is only 10 minutes away and the British Army headquarters at Lisburn is only 20 minutes away," he said.
PSNI compensation award angers community
West Belfast Sinn Féin Assembly member Michael Ferguson says people in the area have been angered at the news that leading PSNI member Maggie Hunter will benefit financially from the killing by her colleagues of Pearse Jordan on the Falls Road in 1992. Hunter has claimed damages from the BBC because of their reporting of the inquest proceedings.
"Pearse Jordan was unarmed when he was gunned down by Maggie Hunter's RUC colleagues on the Falls Road in 1992," said Ferguson. "Since then, the Jordan family have fought a long and hard campaign for the truth surrounding Pearse's murder.
"At every turn they have been thwarted by the RUC and latterly by the PSNI who continue to withhold vital evidence.
"Now we learn that Maggie Hunter has claimed damages from the BBC because of their reporting of the inquest proceedings. People in West Belfast are angry that Hunter is profiting from the murder of Pearse Jordan.
"Hunter's actions show just how far she is removed communities like West Belfast and how far we have yet to travel before achieving acceptable policing. She seems oblivious to the decades of torture, murder and abuse caused by the RUC in areas like West Belfast and the legacy which this continues to leave."
"Mindless acts of sectarianism"
Sinn Féin has branded those responsible for painting sectarian graffiti on the walls of a Presbyterian church in Crumlin as "mindless vandals".
Worshippers at the Evangelical Presbyterian Church were shocked to discover the disturbing graffiti when they arrived for their Sunday service on 8 February.
Messages including 'Prods out', 'IRA' and 'Huns Out' had been daubed on walls surrounding the church in white paint.
Sinn Féin Councillor Martin McManus said the republican community did not endorse such actions and called on people involved to use their heads and desist immediately, "as they are only playing into the hands of those who want trouble.
"We in Sinn Féin have spent a lifetime in the Antrim area trying to remove graffiti of all nature from the borough and this kind of vandalism is a million miles away from the work Sinn Féin is doing in the area," he said.
McManus and fellow councillor Martin Meehan volunteered to remove the offending graffiti themselves.
Meanwhile, a Catholic family were lucky not to be more seriously injured after a bottle was thrown at their car as they drove through the loyalist Ballysillan area of North Belfast.
A 15-week-old baby and a five-year-old boy were showered with glass when the rear window was broken during the sectarian attack on the car as it travelled along the Bilston Road at around 4.30pm on Sunday last.
The boy received minor cuts to his head and ear, while the baby sustained a cut eyebrow. Neither required hospital treatment.
The bottle was thrown by a loyalist in his early 20s wearing a navy jacket, a navy baseball hat and a scarf.
Rampaging PSNI members attack youths
Sinn Féin has accused the PSNI of being heavy handed and of going on the rampage after they attacked a group of young people in Derry's Waterloo Place on Friday night 6 February.
An 18-year-old who has a heart condition was arrested and thrown into the back of a PSNI Land Rover, where he says he was assaulted by a number of PSNI personnel.
Sinn Féin Councillor Billy Page said the youths were attacked by the PSNI for no reason and this was becoming the norm in Derry.
The attacks occurred around 1.30am. At one stage several hundred youths were in the Waterloo Place area and there were a number of clashes with members of the PSNI. Five people were arrested, said the PSNI.
Brits use alert as an excuse
An eight-day joint PSNI and British Army search in Ardboe on the shores of Lough Neagh in County Tyrone, in which local people's lives were disrupted, is to be raised with the British Government by Sinn Féin Mid-Ulster MP Martin McGuinness.
The search at the Black Lower Road in Ardboe near Stewartstown began on 2 February and finally ended on Monday night 9 February when nothing was found. Sinn Féin believes the British Army was conducting a training exercise and using the alert as a smokescreen to disrupt the local community.